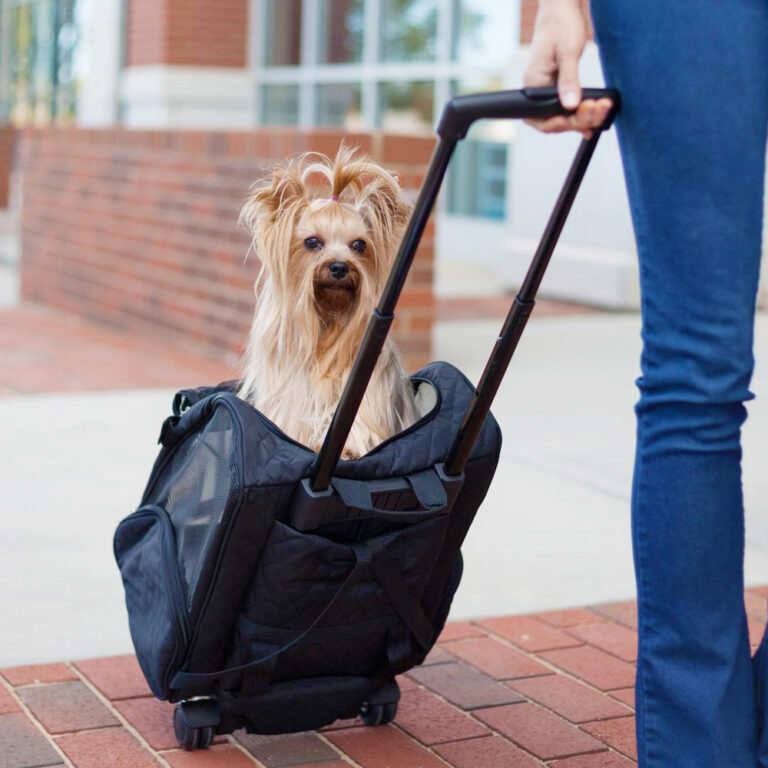 The Roll Around Pet Carrier Backpack is an approved airline dog, cat, and pet carrier that makes traveling with your pet easy with this 4-in-1 design. Our carrier seamlessly converts into a backpack, car seat and pet bed, so you can bring your dog or cat just about anywhere. Available in two sizes and two colors.
Snoozer Roll Around Pet Carrier Instructions
* Please check airline restrictions before purchasing
Snoozer Roll Around Pet Dog Carrier Features:
Multi-stage telescope handle
Mesh on three sides
Converts into a dog backpack carrier, dog car seat, and pet bed
Available in Red or Black
Great for traveling with Dogs and Cats
---
Size

Outer Dimensions

Pet Size

Medium

20" H x 14" W x 11" D

Up to 15 lbs

Large

23" H x 15.5" W x 12.25"
D

Up to 30 lbs*
*Misprint on some LARGE boxes say up to 21 lbs. Should read "For pets up to 30 lbs."*

Bring your dog or pet along on a leisurely bike ride with the SnoozerDog Bicycle Basket. This patented bike basket provides a safe and comfortable place for your dog to enjoy your company while you ride together. A mesh water bottle pocket gives you the perfect place to store some water for long rides.
Snoozer Dog Bicycle Basket Features:
Mesh water bottle holder and pockets for treats
Includes straps to attach carrier to bike handles
Includes internal harness clip for keeping pet secured
Rain cover with opening for pets head
Available in Grey or Pink
For pets up to 15 lbs.
Dimensions: 10" H x 13" W x 10" D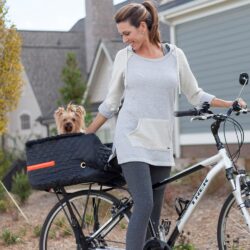 Let your best friend ride along with you comfortably and securely. Each Dog Rider comes with stitched-in, high-visibility reflective tape for added safety during your bike travels. Machine washable black quilt and fleece. The Dog Rider securely straps to rear bicycle rack and frame. A strap is provided to secure your pet to a harness.
Features:
- For Pets up to 24 lbs
- Black quilted material and black fur inside
- Removable cover is machine washable and dryable
- Three point safety strap secures pet inside
- High visibility reflective strip sewn to cover
- Patented
- 1 Year Limited Warranty
Dimensions
Outside: 19"L x 16"W x 10" H
Inside: 15" L x 12" W
* BIKE RACK NOT INCLUDED- MUST BE PURCHASED SEPARATELY*