Train Your Dog to Stop Straining on the Leash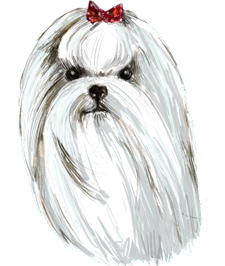 Bonjour my lovelies!
Today I want to talk about walking on a leash. It sounds simple but believe it or not, it can be challenging for many owners to get their pooches to walk properly on the leash! Many dogs strain against the leash, lunge, or want to be in charge rather than following their owner. (Not me, of course! I'm referring to other dogs.)
These can be hard habits to break in dogs who have gotten set in their ways, but it's not impossible! Follow these training tips.

Break the Bad Habit
The most common bad habit on the leash is pulling. What you want is for your dog to follow your lead while you remain in charge of where you're going and at what pace. The leash should have some slack in it and your dog should walk by your side. That's the goal, anyway!
If this is your dog's issue, then as soon as your dog starts to strain on the leash, stop and stand still. Don't start walking again until there's slack in the leash. If your dog is fixated on something in the distance and doesn't stop straining, you can break their concentration by standing in front of them to block their view and redirect their attention. They will learn after a while that the walk won't continue until there's slack and you're back in control of the walk.
Another common bad habit on the leash is lunging. Some dogs want to leap up on people passing by or other dogs because they're frightened, aggressive, or just want to say hello! No matter the motivation, your dog needs to learn this is not okay! If you know your dog's triggers and can anticipate when they'll lunge, then stop it before it happens and redirect their attention with a treat. You may want to get down on their level and hold them by the collar to physically prevent them from jumping.
Use Praise, Not Punishment
Don't punish your dog! Not only is it mean, but it's not as effective[1] as using positive reinforcement methods for getting the behavior you want. While you're working on correcting your best friend's behavior on the leash, keep small treats with you and reward them when they show the behavior you're after. You won't need to keep up the treats forever, only as long as it takes for them to associate the good behavior with good things! Don't forget verbal praise, too, since we dogs love it!
Above All, Be Consistent
Forgive my being blunt, but the truth is that most of the time, when a dog fails training it's not because of the dog but because of the trainer!
Dogs don't go for mixed messages. We like to know what you want so we can make you happy! That means you have to be consistent when trying to shape your dog's behavior. If you let your dog strain on the leash or lunge on some occasions but not others, you're teaching them that sometimes it's okay to strain or lunge. You have to be consistent!
Use the Right Collar and Leash
While you're training your dog to walk on a leash, it's not the time to use a retractable leash. (Some dog trainers believe it's never the time to use a retractable leash!) You are trying to teach your dog to walk closely to you and to pay attention to slack in the leash, and this will be more difficult with a retractable leash.
Instead, you want a solid collar and leash, like these handmade leather collars and leashes from Snoozer. They're not only sturdy, they're sophisticated, too! Who says you have to sacrifice style? Not me!
Hope these tips help. It's never too late to train your dog to walk well on the leash, so don't give up hope if it hasn't happened yet. Just keep trying.
Ciao ciao for now!

Read More Posts By Moxie
Moxie the Maltese has gorgeous, silky white tresses—and more than a little attitude! This classy lady likes to travel the world with her owner, Penelope.