Console Dog Car Seats
Ride right along side your pet. Fits snugly in the console of most cars.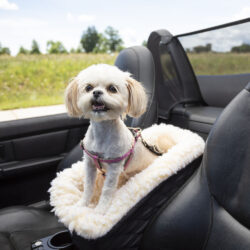 With its patented design, the Console Dog Car Seat allows your dog or pet to enjoy the comfort and security of riding right alongside you. The ride is firm, yet comfortable thanks to its sturdy foam form construction. The Console Dog Car Seat attaches easily to your car's console. With a simulated lamb's wool interior and available in quilted or poly/cotton fabrics. 1 Year Limited Warranty.
Features:
Removable cover is machine washable and dryable
Straps for securing to seat base and console lid
Included safety strap for securing animal into seat
Sizes:
Small: 15" L x 9" W x 7" H - up to 7 lbs.*
Large: 19" L x 12" W x 7" H -up to 12 lbs.*
Interior Dimensions:
Small: 13" L x 7" W x 5" H
Large: 16" L x 9" W x 4" H
*Before you buy a Console Dog Car Seat always measure your dog and compare its dimensions to our interior dimensions. Compare the interior dimensions of your car console to our exterior dimensions as well. The size you order will need to reflect the size of the space available in your vehicle as well as the size of your dog. Be sure to always measure for both factors before you make your purchase.