Fighting Doggy Odor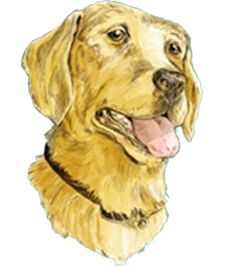 Let's be real, sometimes dogs are STINKY. As much as you may love your pet, it's not so easy to love their smelly fur, breath, and just… odor. But there's no need to suffer! Here are some ways to stop the stink and help make your pet and your home doggy odor-free.
Check for Health Issues First
Lots of doggy odor problems can be traced back to biology. Ear infections can cause smelly yeast and bacteria to build up, while allergies can irritate the skin, which prompts the body to release a musty smelling oil. These are just a couple health-related reasons for doggy odor, but there are more. As always, talk to your vet if your pooch is stinky to rule out health problems first!
Clean Those Teeth!

Doggy breath… YIKES. It can knock a human out at ten paces! Fight it by brushing your dog's teeth regularly and taking them in as often as your vet advises (like once a year) for a professional cleaning. Breath chews and water additives can also help keep your dog's breath fresh(er) the rest of the time.
Bath Time and Brushing
One reasons dogs seem to smell for so long is because odors can easily get trapped in their fur and linger. So regular baths (once or twice a month, depending on how bad the doggy odor is) are the best way to keep their coat clean. A gentle dog shampoo and plenty of water is all it takes! In between baths, use a brush mitt to brush your dog's coat, which will remove excess fur (and trapped odors along with it).
Get an Odor-Fighting Dog Bed

That's right, there is such a thing as an odor-fighting dog bed! Snoozer's Outlast Dog Bed collection features technology that regulates temperature and controls odor. The space-age material (literally – it was developed for NASA to help with heat build-up) is super comfortable and with the help of Snoozer's Odor Adios fabric insert, fights that doggy smell.  
Help Your Home
Okay, your dog's in great health, their teeth are clean, they just had a bath, they've got a nice new Snoozer Outlast bed… but the house still smells like dog! NOOO!! Tackle lingering odors quick: vacuum carpets, dog beds, couches, and soft chairs the dog spends time on once or twice a week and wet mop hard floors. Clean any pet accidents promptly with a pet stain-specific cleaner. Sprinkle baking soda on carpets or leave a baking soda carton open to absorb odors in areas the dog spends a lot of time. Finally, an air purifier with an active carbon filter removes unpleasant doggy odors as it cleans the air inside your home.
Odor-Fighting Pads
Snoozer's Odor Control Pads help absorb and eliminate odors at home and in the car. These non-toxic carbon fabric pads can be used with dog beds, crates, car seats, and carriers, as well as litter boxes and cages, too! Each pad can be machine washed up to 10 times once the odor returns and used again. These are super versatile and super effective, too!
Don't fret about that doggy smell. Follow the tips above and you'll have a sweeter smelling pooch (and home) in no time! – Kia
Read More Posts By Kia
Kia is a full-sized dog living with a full-sized family! She's full of energy and loves to romp with kids, so whenever Kia is around, you know you're in for an exciting time!