Do Dogs Like to be Hugged?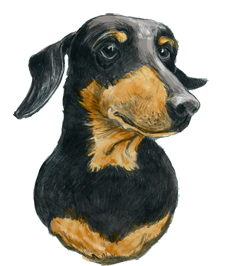 The human-canine bond is undeniable. We have a long history together; archaeological evidence shows that domestication of wolves by nomadic peoples began over 15,000 years ago (or did dogs domesticate humans?). These days, over 60 million homes in the U.S. count a dog as one of the family, according to the Insurance Information Institute, which is nearly half of all households.
The point is, humans love their dogs, and it's natural for them to want to show affection in a way that's common to them: hugging. Humans understand when another human hugs them, but do dogs? Do they understand that it's a display of affection, or is it uncomfortable? Do they like it? Should you hug your dog or not?

The Case Against Hugging Your Dog
Think about what a hug is from your dog's point of view. There they are, and all of a sudden, they're being surrounded and squeezed. They don't have full use of their legs and limited or no ability to use their mouth. In short, they're trapped. If something like this happened in nature, they would assume they were being attacked and would fight back to escape. A hug to them is not a clear sign of affection, but could be seen as a sign of aggression.
Since your dog has (presumably) been socialized and (presumably) loves and respects you, they won't fight back or try to escape your hug. But it's probable that even if they put up with it, they don't actually enjoy being hugged by a human that much.
Do a little test. Ask someone to take a short video on their phone of you hugging your dog, focusing on your dog's face and body. Then watch it and try to read their body language. Is your dog stiff? Is their tail completely still? Are they yawning, licking their lips, or panting? Looking away from you? These are all signals that your dog is not comfortable or happy with what's going on. Again, they're tolerating it, but not loving it.
Perhaps your dog doesn't display any of these signs, and instead is relaxed, with tail wagging. In that case, you've got yourself an unusual dog that enjoys hugs. Take advantage of it.
Showing Your Dog Affection
You may still decide to give your dog a hug from time to time, knowing that it's not their favorite, because you love them so much. That's okay; the occasional hug won't stress your dog too much. But there are many others ways to show your dog you love them that they'll be a lot more comfortable with.
Treats and toys are always a favorite, of course, as are petting, scratching, and massaging. Verbal praise in a loving tone of voice goes a long way. Taking good care of them by giving them food, water, shelter, protection, exercise, and mental stimulation is another way you show you care. And the best gift of all is not only the one that means the most, but is also the simplest: spending time together.
–   Maple
Read More Posts By Maple
Maple's a little older, but with age comes wisdom, and Maple is always ready with great life advice! He's seen a lot in his lifetime, and he's happy to be spending his golden years sharing that experience with others.