Never Too Old: Fun Activities with Your Senior Dogs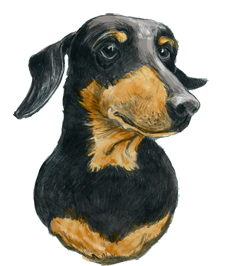 As your dog enters their golden years, they may not have the energy and mobility they once had, but they still love having fun with you. Here are some activities that senior dogs like me can enjoy for years to come.
Teach an old dog new tricks.
Knowing how to sit, stay, and come is important, but if your senior dog already has the basics down, consider training them to do something fun. Classics include commands like roll over, play dead, or shake hands, or you can train your dog to ring a bell for a treat or to go outside, howl like a wolf, "sing," or fetch a toy. Use small treats or playtime with a favorite toy to reinforce the behavior you want, and keep training sessions short – 10-15 minutes – to keep the experience positive. 
A bike ride
.
For smaller dogs, a bike ride in a basket is a fun and novel way to see new things (not to mention good exercise for you). Snoozer makes bike baskets for the front of the bike for dogs up to 15 pounds and bike seats for dogs up to 24 pounds that secure on your bike's rack in back. Both come with a strap to secure your dog inside for a safe and enjoyable ride.
A car ride.
For longer distances, a car beats a bike, but is still a ton of fun for your dog. Keep smaller dogs safe and comfortable in a Lookout seat that boosts them up high so they can see out the window from the backseat, or try a Console seat for a view from up front right next to the driver. Bigger dogs can take in the sights from the backseat while relaxing on a hammock.
Scented hide-and-seek
.
Your dog's vision and hearing may decline with age, but typically the sense of smell stays strong. That's why hide-and-seek with strong-scented treats is a great game for older dogs. Place a handful of treats around the room and encourage your dog to find them one by one by using their sense of smell to locate the treats. When starting out, use a command like "find the treats" and leave some uncovered and visible so your dog can get the hang of what's going on, then start hiding them for more of a challenge.
Swimming.
Swimming isn't just fun, it's a great exercise for dogs with joint problems, too. Where can you take your dog to swim? Some dog parks have lakes for swimming, some beaches and lakes are dog-friendly, some public pools offer dog swim sessions at the end of the summer, and canine hydrotherapy pools are popping up in locations across the country. Do an internet search or ask your vet for swimming locations near you. Small dogs don't even need a lake or a pool – they can paddle around in a kiddie pool in the yard or even in your bathtub. Wherever you take your dog to swim, stay close by and keep an eye on them.
A scent-filled walk.
Even for dogs with joint problems, a daily walk is good exercise as well as a great way to bond with you. Let your dog set the pace and allow them stop and smell the roses, grass, mailbox, pavement, and whatever else seems interesting along the way.
Xoxo Maple
Read More Posts By Maple
Maple's a little older, but with age comes wisdom, and Maple is always ready with great life advice! He's seen a lot in his lifetime, and he's happy to be spending his golden years sharing that experience with others.