Can dogs have sleep apnea?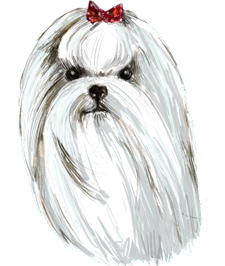 Like humans, dogs can suffer from sleep apnea. And like sleep apnea in humans, sleep apnea in dogs can be very bad for their health.
Are you concerned that your dog has sleep apnea? Here are the signs to look for, causes of sleep apnea in dogs, what the potential consequences are, and how to treat it.
Dog Sleep Apnea
Sleep apnea is a disruption in normal breathing that occurs during sleep. This can reduce the amount of air coming into the body and lead to lower levels of oxygen in the blood than normal.
There are actually different kinds of sleep apnea: obstructive sleep apnea (OSA), resulting from physical blockage of the airway during sleep; central sleep apnea, which is when the brain doesn't send the right signals for breathing in sleep; and mixed, which is a combination of the two. OSA is the most common and is the one we'll be discussing here.
Symptoms

If you're concerned that your dog has sleep apnea, then you've probably noticed one or more of these signs and symptoms of sleep apnea while they're asleep:
 

Excessively loud snoring

 

Interrupted breathing which can stop for up to 20 seconds at a time

 

Waking up suddenly with gasping breaths

 

Waking up suddenly with choking breaths

 

Shallow breathing
But there are also telltale daytime signs of sleep apnea, including:
 

Daytime sleepiness

 

Irritability

 

Depression

 

Clumsiness from sleep deprivation
Dog snoring by itself isn't necessarily a cause for concern; many dogs snore and have no serious underlying health issue. But if you notice any of the signs above in your dog, they could have sleep apnea.
Dog breeds prone to sleep apnea

Due to their physical characteristics, certain breeds are more likely to develop sleep apnea, notably brachycephalic breeds, which include pugs, Pekingese, Cavalier King Charles Spaniels, shih tzus, boxers, English bulldogs, French bulldogs, and Boston terriers. These "snub-nosed" or "short-nosed" dogs are prime candidates for sleep apnea. But don't assume that your dog can't have sleep apnea just because they aren't a brachycephalic breed – there are many causes of sleep apnea and it can occur in any breed.
Causes of Sleep Apnea in Dogs
Why do dogs snore and suffer from sleep apnea? OSA results from a partial or complete blockage of the airway during sleep, making it difficult or impossible to breathe normally. As with humans, there are a number of things that can lead to this blockage and cause sleep apnea.
The physical characteristics of the airway can cause sleep apnea, as mentioned above in relation to brachycephalic breeds.  
Being overweight is also a risk factor for sleep apnea in dogs. As in humans, excess fat puts extra pressure on the upper airway and leads to its partial collapse.  
Certain medications that affect muscle tone can cause sleep apnea, including benzodiazepines, which may be prescribed to dogs suffering from stress and anxiety or to treat seizures.
Allergies cause irritation and inflammation in the nasal passages and can lead to disrupted breathing and sleep apnea.
Health Problems Caused by Dog Sleep Apnea
Sleep apnea isn't just a nuisance, it can be very dangerous to your dog's health. The disruption in breathing – which can occur dozens of times a night and last up to 20 seconds each – not only leads to poorer quality sleep, but a number of other issues.
Sleep apnea in dogs is linked to:
 

Obesity

 

Hypertension (high blood pressure)

 

Stroke

 

Diabetes

 

Sudden death
As for that last point, sleep apnea in dogs has been connected to sudden death in young dogs, comparing the situation to SIDS in infants.
Treating Sleep Apnea in Dogs
The appropriate treatment for your dog's sleep apnea depends on the underlying cause. For instance, helping your overweight dog get to a healthy weight or addressing your dog's allergies can help. Surgery is also an option for chronic sleep apnea, especially in dogs whose physical characteristics predispose them to sleep apnea.
What about the use of a CPAP (continuous positive airway pressure) machine? This common treatment in humans isn't available for dogs – yet. But scientists are researching it, so this could be a possible treatment in the future.  
Address Your Dog's Sleep Apnea Now
Dog sleep apnea reduces quality of life in the short-term and can lead to a list of undesirable health consequences when untreated, including sudden death. If you notice signs of sleep apnea in your dog, don't ignore them! Schedule an appointment to talk to your vet to determine the best course of treatment for your dog and help them get high-quality, healthful sleep.  
Read More Posts By Moxie
Moxie the Maltese has gorgeous, silky white tresses—and more than a little attitude! This classy lady likes to travel the world with her owner, Penelope.