How to keep a dog off of your bed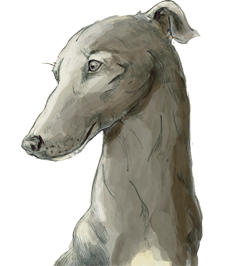 Are you looking for a way to keep your dog off your bed? Maybe your dog sleeps with you at night and it's disturbing your sleep. Maybe you don't mind but your partner doesn't fancy a canine companion at night. Or maybe you just don't want your dog's dirty paws messing up your nice clean bedspread.
Whatever the reason, if you want to know how to end this habit now, read on.

What happens when you let your puppy or dog sleep in bed with you?
The most common consequence of your dog or puppy sleeping in bed with you at night is a change in your sleep quality. But, confusingly, the research on this has come to mixed conclusions. Some studies have found that sleeping with your dog increases the number of wake-ups throughout the night, which negatively impacts sleep quality. Others have found that sleeping with a dog improves sleep quality in certain people because it can lessen the occurrence of nightmares and reduce stress and anxiety. However, what scientists have discovered may not apply to you and your situation. If your dog is a bed hog, or you're a very light sleeper, your quality of sleep may suffer to the point where letting your dog sleep in bed with you just isn't sustainable anymore.
Another potential – but thankfully, rare – consequence of your dog sleeping in bed with you becoming infected with something serious. There's a risk of contracting things like meningitis, MRSA, and even the plague (yes, the plague) from sleeping with your dog.  
Apart from the health aspects, there's one thing that certainly happens when you let your dog sleep in bed with you – you give them permission to be on your bed, which can be a tough habit to break.

How to keep your dog off your bed
Limit access to your bedroom
The easiest way is to limit access to your bed. Just close doors to limit your dog's access to your bedroom entirely. This method is a winner because it's simple and the results are instantaneous.
Upgrade their sleeping quarters
If you don't mind your dog being in your bedroom, but just don't want them on the bed, then put a dog bed in the bedroom if there isn't one already so they have a comfy spot of their own.
What if "my dog won't sleep in his bed anymore"? Then it's time to upgrade their sleeping arrangements. Maybe they want to spend time on your bed because it's more comfortable than their own! Get a new, high-quality dog bed that they'll actually enjoy spending time on. Whether they need the firm support of an orthopedic mattress, love to cuddle up in a cozy hooded bed, or want plush and luxurious comfort, you can find the right dog bed for them at Snoozer.

Crate train
Or, if you want them close but not that close at night, keep your dog crated in the bedroom so they're nearby but can't get on your bed. (Never done crate training? Check out our how-to crate train blog here.)
Reinforce good behavior
But what if you want them to have access to the bedroom and don't want them to sleep in a crate all night? Then you'll need to spend a little more time and effort by using some classic dog training tactics to reinforce good behavior until they learn that they're not allowed on the bed.
To train the behavior you want to see – which in this case is staying off the bed – you'll need to reward it with something of high value to your dog, like treats or time with a toy they love. Take 10-15 minutes for a short training session with your dog (longer sessions produce diminishing returns, so keep it short) and start by going into the bedroom together. Don't encourage your dog to jump up on the bed, just wait for it to happen on its own. When it does, say a firm "no" and gesture for them to get off the bed. (Stubborn dogs may need more encouragement, such as a light spray of water from a spray bottle or some other non-harsh tactic.) When they do get off the bed, give them the reward you've selected. You can also reward your dog when they lie down on their own bed instead of jumping up on yours.
As with all training, the key here is to be consistent. Don't undo all your hard work by letting your dog hang out on the bed "just this one time." It's easier to have a hard-and-fast rule and stick to it. Just make sure other people in your household are on board, too.
Set the House Rules You Want
Even if you've allowed your dog on your bed for years and you've only recently decided that has to change, it's not too late to change. Old dogs can learn new tricks!
Read More Posts By Beckley
Beckley was a racing greyhound until he retired at 2 1/2 years old and was adopted off the track. He's super fast when he wants to be, but he actually prefers to take it easy, napping on the most comfortable bed he can find!