Can dogs get car sick?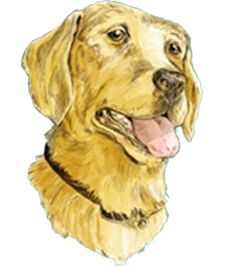 Taking a trip with your dog can be a lot of fun – for you. If your dog suffers from motion sickness, then riding in the car is an unpleasant, stressful experience.
But how do you know if your dog gets car sick? And what can you do to prevent it?
What is motion sickness?
Motion sickness is the experience of feeling sick due to motion, and it's caused by an incongruence of messages reaching the brain.
So, for example, say you're on a ship and you see the waterline bobbing up and down but your inner ear (which is responsible for our sense of balance) is experiencing something else. These conflicting signals being sent to the brain can result in the feeling of motion sickness. It's the same thing as being seasick or car sick.
The most common symptoms of motion sickness in humans are queasiness and nausea, but it can also cause dizziness, vomiting, and pallor which can make the face appear greenish in color.
Can dogs get car sick?
Yes! Dogs can get car sick and it's a common issue for dog owners everywhere. (And it's not just dogs; many animals can and do experience motion sickness, including cats, monkeys, birds, sheep, and horses.)
Since you don't know whether your dog is experiencing nausea, dizziness, or other internal symptoms, keep an eye out for these signs that indicate dog motion sickness:
 

Vomiting

 

Diarrhea

 

Excessive drooling

 

Licking or smacking lips

 

Yawning

 

Whining

 

Pacing

 

Lethargy or listlessness
Good to know: puppies experience motion sickness more frequently than older dogs do, which may be because the inner ear (which, again, is responsible for a sense of balance) isn't fully formed. Many dogs outgrow early motion sickness without intervention.
How to prevent dogs from getting car sick?
If you believe your dog gets sick from car travel, then you'll want to know how to help dogs with car sickness. Luckily, there are several possible solutions you can try.
Crack open the windows. This simple hack is said to help by allowing air pressure to equalize in the ears. But don't put the windows down so far that they can stick their heads out.
Don't go for a ride on a full stomach. If your dog has nothing in their stomach, they have nothing to vomit up.
Have them sit facing forward in the car. Letting your dog have free range in the backseat or cargo area may make motion sickness worse, so try to keep them restrained in a way that makes it more likely that they'll face forward. If possible, put their crate in the car in a position that allows them to face forward. (Bonus: if they do vomit, it will end up in the crate and not on your car seats!)
If your dog is small enough, put them in an elevated dog car seat like the Snoozer Lookout or the Snoozer Console Seat, which allows them to look out the window (which can help motion sickness) and may encourage them to face forward. Customers have reported that using the Snoozer Lookout or Console Seat has helped alleviate their dog's car sickness!
Try medication. The FDA approved a drug called Cerenia, an anti-nausea medication, in 2007, and it's been very effective in helping dogs with motion sickness. Other over-the-counter drugs like Benadryl and Dramamine may help. But before giving your dog any medication to address car sickness, talk to your vet first about risks and dosages.
Try natural remedies. If you prefer natural to pharmaceutical, you have some options, too, including Cocculus, Bach Rescue Remedy, and ginger.
Help them relax. Some symptoms of car sickness in dogs, like whining and pacing, can be a sign of anxiety over car travel rather than true motion sickness. But the two can overlap, as your dog learns that car rides make them sick, which makes them anxious about riding in the car, which makes their symptoms worse. Helping them relax before and during the ride can help quell some of their symptoms. Try taking a brisk walk before the car ride to expend some energy, giving them a nice doggy massage, or scenting the car with lavender by putting a few drops on a cotton ball in the backseat.
Help your dog feel better
If you were wondering "Do dogs get motion sickness?" now you know the answer is yes, and what to do about it. Dog car sickness can be alleviated and treated in a number of ways, so keep trying new remedies until you find what works for your dog.
Read More Posts By Kia
Kia is a full-sized dog living with a full-sized family! She's full of energy and loves to romp with kids, so whenever Kia is around, you know you're in for an exciting time!