Why does my dog sleep under my bed?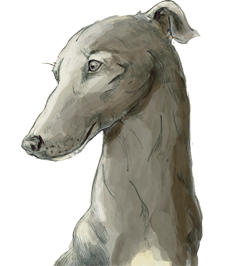 It's easy to understand why your dog sometimes takes temporary refuge under your bed when something scary is going on, say, a thunderstorm or a vigorous vacuuming session. It feels safe! But not all dogs who spend time there are scared or stressed, so why do some dogs sleep under the bed? Here are four potential reasons for this funny habit.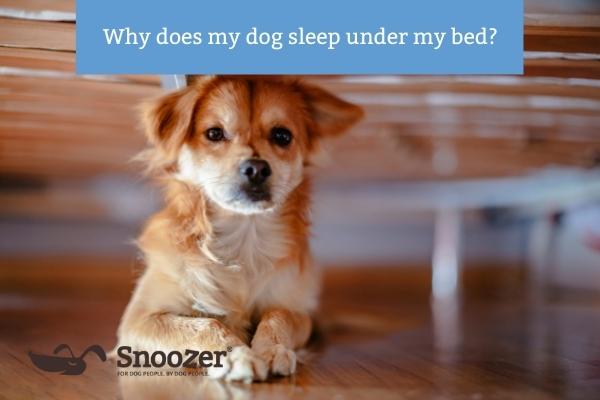 Reasons a Dog Sleeps Under Your Bed:
It Feels Safe
For the same reason that a dog might hide under the bed during a storm, some dogs like to sleep under the bed all night long: that's where they feel safe. Feeling surrounded gives many dogs a feeling of security, which is why so many of them like to spend time in their crates. Plus, being in the bedroom, rather than in a different room of the house with more foot traffic that feels more exposed, might feel more secure, too.
It's Comfortable
It could be that your dog has tried snoozing in several spots in the house and this one is the coziest. Maybe the carpet under the bed is especially soft, maybe the temperature and lighting are just right, maybe they like being near you but don't enjoy sharing the bed and want their space. Under the bed might be the perfect spot for them in terms of comfort.
And the reason it's under your bed and not another bed in the house is obvious – you! Whether it's being near you during the night, or just being close to your scent during daytime naps, your presence is another factor that makes your dog feel good.
It's Private
If you have a busy household, especially one with multiple children and other pets, privacy could be the primary reason your dog sleeps under your bed. Your dog might find that it's the best place in the house to get away from the hustle and bustle and just enjoy a little peace and quiet.
Alternatively, your dog could be hiding from you or someone else in the house. They may have learned that this is a good spot to stay in to avoid punishment after breaking house rules, or maybe they want to avoid a particular person who's too rough with them.
Your Dog Doesn't Have a Spot of Their Own
One overlooked reason your dog may sleep under your bed is that they don't have a place to call their own. Since they don't have their own "spot," they'll find some other place somewhere in the house, even if that ends up seeming a little strange to you (like under the bed!).
Give them a place that's all theirs, whether that's a dog bed that's comfortable and big enough to stretch out on, like these dog beds by Snoozer, or a crate with a comfortable dog crate pad inside.
Could It Be Illness, Fear, Stress, or Anxiety?
Although there are four good reasons for your dog to sleep under the bed, don't immediately rule out the possibility that this behavior is due to illness, fear, anxiety, or stress. Here are some questions to help you figure it out:
–        Has your dog's behavior changed recently, for example, your dog used to sleep in a different location but now always wants to sleep under your bed?
–        Have you noticed any triggers that cause your dog to make a beeline for under the bed, like particular noises or certain people?
–        Does your dog display any other signs of being ill, scared, or anxious, like pacing, excessive drooling, whining, lethargy, or anything out of the ordinary?
If you think that there could be a more serious issue behind your dog's tendency to sleep under the bed, talk to your vet about your concerns.
Sleeping Habits
Hopefully this has helped you answer the question "Why does my dog sleep under my bed?" If your dog is in good physical and mental health, and you don't mind their funny sleeping habit, there's no reason to stop your dog from sleeping under your bed.
Read More Posts By Beckley
Beckley was a racing greyhound until he retired at 2 1/2 years old and was adopted off the track. He's super fast when he wants to be, but he actually prefers to take it easy, napping on the most comfortable bed he can find!