Why does my dog sleep at my feet?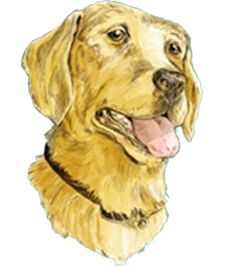 Some people get a dog and find out that they don't just have a new best friend, they have a new foot warmer, too! While many dogs like to sleep next to or even on top of their owner, other dogs prefer to sleep at their feet. But what's the reason? If your dog does this, you might be wondering "Why does my dog sleep at my feet?"

It's Safe, Comfortable, Warm, and Natural
Dogs that like to sleep at your feet probably have many of the same reasons as dogs that like to sleep on you. Sleeping on you is comfortable and warm, your dog feels safer when they're close to you, and they're helping keep you safe, too. It's also a sign of love and affection.
Also, sleeping extremely close to you – whether that's next to you, on you, or at your feet –satisfies a natural instinct to be close to others in their "pack." Dogs are social creatures, and in the wild, they spend their days and nights around other pack members.
It Satisfies the Burrowing Instinct
Some dogs absolutely love the feeling of being snuggled up and surrounded in something cozy. Often these dogs have a natural instinct for burrowing.
Many dog breeds were originally bred for burrowing, meaning their job was to follow animals like badgers and rats down little tunnels to catch them or flush them out. Dog breeds that are popular today that were bred for burrowing include dachshunds (bred to hunt badgers), terriers (to go after rats), and beagles (to hunt small game like rabbits).
Other dogs burrow for a different reason. Huskies, for example, are famous (or perhaps infamous) for digging, which comes from their instinct to dig themselves a warm den in the snow for shelter.
Whatever the reason, dogs that like to burrow may be more likely to enjoy sleeping at your feet. At the bottom of the bed, they can enjoy the feeling of being under the covers while still being close to you.
It's How They Grew Up
One theory about why dogs like to sleep at your feet is because as puppies, they spent most of their time at their mother's feet, so this position feels familiar and comfortable. Also, sleeping by the feet rather than by your stomach or back means they're less likely to be crushed if you roll over.
It's Smelly (In a Good Way)
Humans will never understand a dog's fascination for and love of stinky smells, but that's because dogs experience odors in a different way than humans do. Dogs' brains have evolved to extract a lot more information from scents than humans can. (Fun fact: a dog's olfactory bulb, which processes scents, is approximately 40 times larger than a human's olfactory bulb, relative to brain size.) So another reason your dog might like sleeping near your feet is because they smell! (No offense!) Because they smell like you, this odor can be very comforting to your dog.
Your Dog Doesn't Have a Place of Their Own
Does your dog have a place to sleep that's all their own, like a comfortable dog bed or crate? Even if you like your dog sleeping by your feet at night, it's a good idea to get them their own place to sleep and spend a little time on their own.
For dogs that like to sleep by your feet, consider a hooded dog bed like the Snoozer Cozy Cave dog beds. The hooded design means it's perfect for burrowers, since it's like a bed-and-blanket in one. Our regular Cozy Caves are made with a comfortable cedar/poly filling and have a Sherpa lining, so they really live up to their "Cozy" name! Orthopedic Cozy Caves are made with sturdy foam so senior dogs and dogs with arthritis and other joint problems can get the support they need for healthy, restful sleep while still enjoying that cozy den feeling.
Another option is to get a non-hooded dog bed, like a super plush overstuffed dog bed or dog sofa, and give your dog a snuggly blanket or two that they can cuddle up with. That will help satisfy the burrowing instinct, too.
Your dog deserves to have a comfortable place of their own where they can sleep and snooze safely and comfortably. Check out Snoozer's full line of dog beds and other accessories for high-quality products that are hand sewn in the USA and built to last.
Read More Posts By Kia
Kia is a full-sized dog living with a full-sized family! She's full of energy and loves to romp with kids, so whenever Kia is around, you know you're in for an exciting time!