Dog sleeping positions and what they mean about your dog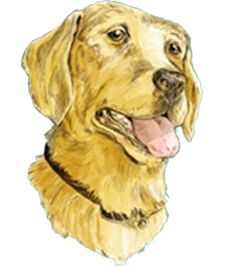 Dogs sleep 12 hours a day on average, plus or minus, and puppies and seniors sleep even more! You've probably seen your dog sleeping while twisted up into all kinds of positions. Did you know that the position your dog sleeps in can tell you something about your dog? Here are some common dog sleeping positions and what they mean.

What it means when your dog sleeps on their side with legs out straight
Your dog is feeling comfortable, relaxed, and secure when they sleep in this position. Sleeping like this means it takes a several seconds to go from sleeping on their side to awake and on their feet, so dogs sleep this way only when they're in an environment where they feel safe. It also means they're at a comfortable body temperature. This position is best for deep sleep.
This sleeping position could also indicate stiff joints. If you have an older dog who favors this position more than they did in the past, or you notice other signs of stiff joints or arthritis, visit your vet for a check up on your dog's health.
What it means when your dog sleeps curled up
Your dog wants to protect themselves. Curling up protects the vital organs, which is why this is the most common sleeping position for wolves and dogs in the wild. If they're attacked by a predator at night, they're more likely to survive if their abdomen isn't exposed. New dogs and stray dogs may favor this position. If your dog is sleeping like this, they may be feeling a little vulnerable in their environment.
Or they could simply be chilly! Curling up saves body heat and reduces the amount of exposed belly skin that loses heat and gets cold quickly. If this is the case, turn up the heat, grab your dog a blanket, or put them in a cute doggie sweater!
What it means when your dog sleeps on their back with legs in the air ("roaching")
Your dog is feeling safe in their environment. The opposite of the previous sleeping position, this position means your dog's abdomen and vital organs are fully exposed, which could be life-threatening if any foes were nearby. Sleeping like this means they trust you and know you'll keep them safe.
Your dog could also be a little hot. Exposing the belly is an easy way for your dog to regulate their body temperature, and keeping sweaty paws exposed helps sweat evaporate and cool them down.
What it means when your dog sleeps on their stomach in the sphinx pose
Also called the "lion's pose," this is when your dog is sleeping on their stomach with their head on or right beside their front paws, which are stretched out in front of them, and with their back legs to one side.
Your dog wants to relax but feels like they must be on alert. The benefit of this pose for your dog is that they can go from sleeping on the floor to standing on their feet very quickly. You'll notice your dog sleeps like this when they aren't feeling 100% secure in their environment, or they expect to have to get up suddenly to go somewhere or to protect you. While your dog may snooze in this position, it's not ideal for deep sleep.
What it means when your dog sleeps on their stomach with legs splayed out
Similar to the sphinx pose above, this sleeping position is a little more relaxed, with back legs splayed out behind them, front legs forward, and the belly touching the floor.
Your dog is tired but is ready to play! They can get on their feet at a moment's notice but until there's any reason to get up, they'll catch some ZZZ's in this position. Playful puppies and high-energy dogs are big fans of this sleeping position.
What it means when your dog sleeps with their head raised
Your dog could have medical issues that need attention. While many dogs occasionally like to sleep with their head propped up on a pillow or the bolster of their dog bed, if your dog consistently sleeps in this position then you may want to discuss this with your vet. Dogs with chronic heart disease, lung issues, sinus problems, and difficulty breathing from allergies and other issues often favor this position.
What it means when your dog sleeps burrowed under the covers
Your dog could be satisfying the burrowing instinct that's part of their breed. Dachshunds, beagles, and terriers are just a few dogs bred to burrow that seem to love sleeping all the way under the covers.
Sleeping in this position could also mean your dog is feeling a little insecure and wants to be protected. Add a blanket to their bed so they have somewhere to burrow or let them sleep next to you in your bed.
What it means when your dog sleeps cuddled up to another person or pet
Your dog is sweet and affectionate, and possibly also a little chilly! Sleeping beside another body is a great way to stay warm. It also shows how much your dog trusts and cares for you (or the person or pet they're cuddled up with).
Finding the right dog bed for your dog's sleep habits
Knowing your dog's favored sleeping position will help you pick the dog bed that's just right for them. A better bed means better sleep which means a happier dog! Snoozer dog beds are made to order and handsewn in the USA and come in a variety of shapes and sizes for every kind of dog and every kind of sleeping position.
Dogs with stiff joints that sleep with their legs straight out would benefit from a supportive orthopedic dog bed. Natural burrowers love our Cozy Cave hooded dog beds. For dogs that occasionally like to rest their head on a bolster, our selection of dog sofas and couches are perfect. Check out our full line of dog beds and find the right one for your dog!
Read More Posts By Kia
Kia is a full-sized dog living with a full-sized family! She's full of energy and loves to romp with kids, so whenever Kia is around, you know you're in for an exciting time!