What does it mean when your dog sleeps all day?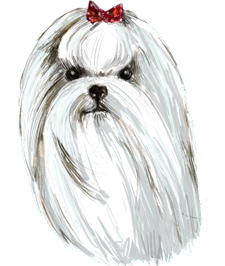 Getting enough sleep is vital for good health. But sometimes too much is too much. If your dog sleeps all day long, you might be wondering if it's a sign that something else going on. And the answer is yes, it could be – excessive sleep is a common sign of many health conditions that need medical attention, some of which are discussed below. Or it could be a normal amount of sleep that's no cause for concern.
First let's look at what's considered normal when it comes to dogs and sleep.

Dogs naturally sleep a lot, night and day
Dogs sleep more than humans do, and they may keep different hours, so it could seem to you like your dog is sleeping all day when their sleep patterns are actually healthy and fall within normal limits.
Dogs sleep an average of about 10 to 14 hours a day, which varies depending on a few things including age and breed. For example, puppies that are just 12 weeks old can sleep 18 to 20 hours in a 24-hour period! Senior dogs often sleep more than the average, too. Bigger breeds sleep more, while smaller breeds sleep less.
No matter what age or breed, you can also expect your dog to take plenty of naps during the day. Dogs have short sleep cycles of around 20 minutes per cycle, and they often sleep in 45-minute naps (i.e., two sleep cycles at a time), and this can happen several times throughout the day.
Finally, keep in mind that if you see your dog stretched out and looking comfortable on their dog bed, they may just be resting and relaxing but not really sleeping.
This is all normal and falls within the bounds of healthy sleep for a healthy dog. But sometimes too much sleep can indicate something else is going on with your dog, and that's what we'll look at next.
Excessive daytime sleep could indicate a medical issue
Sleep is one of the body's primary ways to preserve energy, restore itself, and heal, so it's no wonder that a medical condition could lead to more sleep than normal. Here are just some of the possible medical reasons your dog could be sleeping all day that are common in pets:
Poisoning
:
Is it possible your dog ingested something toxic? If so, call the ASPCA Animal Poison Control Center at 888-426-4435 or the Pet Poison Helpline at 855-764-7661 right away for advice on what to do next. DO NOT WAIT if you think your pet has been poisoned. Other signs that indicate poisoning are vomiting, drooling, diarrhea, twitching, and seizures.
Current medications
:
Did your dog recently start on a new medication, or change the dose of an existing one? Many medications have fatigue and sleepiness as a side effect, so this could be the culprit.
Hypothyroidism
:
Low levels of thyroid hormones commonly cause lethargy and sleepiness. Dogs with hypothyroidism may have low energy, not want to play or exert themselves physically, and be overweight. Hypothyroidism in dogs is often caused by an autoimmune disorder or damage to the thyroid gland.
Diabetes
:
Just as with humans, dogs can develop diabetes that causes fatigue and oversleeping. Look out for other common signs like excessive thirst and urination and changes in weight. Unspayed female dogs are twice as likely to develop diabetes compared to male dogs, and it's more common in middle aged and senior dogs than in young dogs.
Parvovirus
:
This is common in puppies but rare in dogs who have had their recommended shots. "Parvo" is a very contagious and often fatal virus, and one of the main signs is tiredness, along with loss of appetite, vomiting, and diarrhea. Puppies sleep a lot naturally, but if you notice that your puppy is lacking energy and uninterested in playing, go to the vet as soon as you can, as untreated parvo can kill a dog in as little as 48 to 72 hours.
Heart disease or heart failure
:
Heart disease is relatively common in dogs, and excessive sleep along with fatigue and quickly tiring out after exercise are common signs of it. A persistent cough is also a primary sign of heart disease in dogs.
Pregnancy
:
An often overlooked condition that leads to oversleeping is pregnancy. A pregnant dog may sleep more hours than normal during the early part and/or the late part of the pregnancy (which lasts just about 9 weeks).
Excessive daytime sleep could point to a mental health or emotional issue
Medical conditions aren't the only cause of excessive sleep in dogs. Sometimes the underlying reason is mental or emotional.
Boredom:
Bored dogs may sleep more simply because they don't have anything else to do. If you think this could be the case, make some effort to stimulate your dog's mind more. Go for longer walks, check out a new dog park or new walking route, give them some dog puzzles to work on at home, teach them a new trick, and play with them more.
Stress and anxiety
:
Excessive sleep is a sign of stress and anxiety in dogs along with excessive licking, chewing, yawning, pacing, panting, and having accidents in the house. Stress and anxiety may be brought on by a big life event like moving houses or losing a beloved human or pet companion, by past trauma and abuse, or by feeling unsafe in their current environment, to name some common causes.
Depression
:
Excessive sleep is also a primary sign of depression. A dog suffering from depression is also likely to be very low energy, not enjoy activities they used to enjoy, and withdraw from family life.
Talk to your vet if you're concerned
While dogs are known for sleeping a lot, if you're at all worried about the amount of sleep your dog is getting in a day don't brush it off. Make an appointment with your vet as soon as you can. A change in your dog's behavior is always a good reason to talk with your vet, and excessive sleep could be the first sign that something's not right. Early diagnosis and treatment is always best. And if your dog comes back with a clean bill of health, then you'll have peace of mind, which is priceless.
Read More Posts By Moxie
Moxie the Maltese has gorgeous, silky white tresses—and more than a little attitude! This classy lady likes to travel the world with her owner, Penelope.