How to choose the right dog stairs for your bed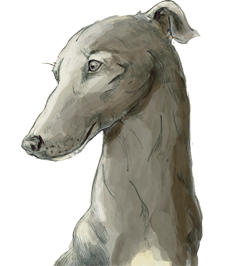 Dog stairs are a must-have for dogs that find it difficult getting onto the bed on their own. They're especially ideal for little dogs that can't jump so high, dogs with mobility issues due to arthritis and other medical conditions, dogs recovering from surgery, and older dogs that just aren't as spry as they used to be.
If you think your dog could use them, here's what to look for in dog stairs and how to choose the right set of dog stairs for your bed.

How to choose the right dog stairs for your bed – what to look for
The right height.
The first and most important thing to look for is the right height for your dog stairs. You want to make sure that your pup can actually reach the bed! Most people have beds that range from 18 to 36 inches from the floor, depending on the height of the mattress plus the box springs or frame. Get out a measuring tape and see how high your bed is so you know what size dog stairs to buy. Dog stairs and dog ramps come in different heights so you can pick the right size for your bed.
Step height and shape.
The height of the individual steps is important, too. Small dogs and those with mobility issues may have a hard time climbing when the rise of each stair is too high. A popular alternative to traditional 90 angle stairs is scalloped stairs, which don't require your dog to lift their legs quite as high to climb from step to step.
Wide enough for your dog.
Dog stairs and ramps come in different widths as well as heights. A narrower set of stairs – around 15 inches – is great for smaller spaces since they don't take up much room, but they may not be ideal for medium and large dogs. Choose wider stairs of 20 inches or more for medium and large dogs. This will help them feel more stable and secure while climbing up.
Light yet stable.
If you plan to move the dog stairs often to use in different parts of the house – for example, next to the sofa during the day and next to the bed at night – then look for dog stairs that are made of a lightweight material like foam. Foam is great because it's light enough to pick up and carry easily yet provides a stable base and good support for your dog. If you don't plan on moving the stairs, then the material isn't as important, so long as it's stable. Many dog stairs are made of wood and work well.
Non-slip stair surface.
The stepping surface of the dog stairs should be a non-slip material like microsuede, Sherpa, carpet, upholstery, or other fabric. Plain plastic and slick wood can make climbing the stairs difficult (and perhaps even dangerous) for dogs with mobility issues.
Weight tolerance.
Dog stairs vary in how much weight they support, with some designed specifically for small, light dogs only, and others that can accommodate dogs up to 200 pounds. Make sure the dog stairs you choose will support your dog's weight.
Easy to clean.
Like anything your dog uses or spends time on, the dog stairs will eventually need cleaning, so look for stairs that are easy to clean. Many come with removeable, machine washable covers that are a cinch to wash.
Coordinates with your décor.
This is not as important as the items listed above, but it does bear mentioning. Dog stairs come in so many materials and colors that you can surely find a set that not only has all the function you want but looks great, too!
Scalloped Dog Stairs from Snoozer
Snoozer's dog stairs tick all the boxes above. Made with lightweight yet stable high-density orthopedic foam, they support dogs up to 100 pounds and are 21 inches wide so your dog feels secure when using them. Our dog stairs come in small, medium, and large sizes to accommodate different furniture heights from 14 to 21 inches high. The scalloped design is great for older dogs and dogs with mobility issues who may have trouble lifting their feet up high. And the microsuede cover is machine washable, easy for dogs to climb, and comes in seven attractive colors to coordinate with any décor.
Snoozer dog stairs are custom made to order and handsewn in the USA using the best materials for durable, stylish dog stairs you and your dog will love for years to come! 
Read More Posts By Beckley
Beckley was a racing greyhound until he retired at 2 1/2 years old and was adopted off the track. He's super fast when he wants to be, but he actually prefers to take it easy, napping on the most comfortable bed he can find!