Why do dogs snore?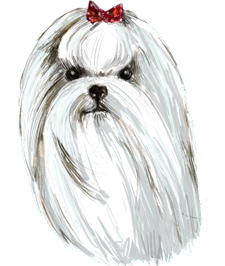 Snoring is fairly common in dogs. Just as with humans, it can range in intensity from cute to disturbing, and just as with humans, snoring in dogs happens for the same basic physiological reason: there's some type of blockage in the airways that prevents air from passing unobstructed.
But what causes the blockage? There are many potential underlying causes of airway blockages that can cause snoring in dogs.

Why does my dog snore?
Here are some of the more common reasons why dogs snore.
It's their breed.
Brachycephalic, or short-nosed, breeds are prone to snoring. The soft tissue blocks the airway due to their facial structure. Common brachycephalic breeds include puts, Shih tzus, boxers, and bulldogs.
Medications.
Certain medications like muscle relaxers are likely to lead to snoring. They make the muscles in your throat relax, which causes snoring. Muscle relaxers are given to dogs sometimes to treat pain or anxiety, and some types commonly prescribed for dogs include benzodiazepine (like Xanax), guaifenesin (like Robitussin), and methocarbamol (like Robaxin).
Overweight or obesity.
Excessive weight can lead to fat in the neck area that puts pressure on the airways when lying down, causing the airways to become constricted, which leads to snoring. Snoring often disappears or lessens in intensity as soon as the excess weight is gone.
Sleep apnea.
Snoring is the primary sign of sleep apnea, where the body doesn't get enough oxygen due to disturbed breathing. It often goes hand-in-hand with being overweight or obese, and getting down to a healthy weight can stop your dog's snoring. Unlike typical snoring, snoring with sleep apnea tends to be very loud and/or comes with regular pauses in breathing of several seconds. This cause of snoring can have long-term negative health consequences, so if you think your dog has sleep apnea, get it checked out by your vet.
Sleep position.
For the same reason, some sleep positions induce snoring because of pressure put on the airways. Dogs sleeping on their backs are more likely to snore than dogs sleeping on their sides or stomachs. Sometimes it takes nothing more than getting your dog to roll over into another position to sleep to stop the snoring.
Physical blockage.
Dogs can get sticks, little rocks, pieces of food, and who knows what else stuck up inside their noses. When this happens, the obstruction can cause snoring. Other blockages include nasal polyps, tumors, or other noncancerous growths.
Illness, infection, and inflammation.
Your dog could have a cold very much like a human cold, where mucus blocks the airways and causes snoring. Or the airways could be inflamed and constricted due to an infection or other illness.
Inflammation from air quality.
Pollution, pollen, smoke, and air fresheners can lead to irritation and inflammation in your dog's airways, causing snoring.
Allergies.
Allergies to food, mold, dust, and other substances can disturb the sinuses and increase mucus production which can lead to snoring. Snoring is one sign of allergies along with sneezing, itching skin, and red, smelly ears.
A Comfortable Place to Snooze (and Snore)
Some of the causes above – in particular sleep apnea and infection – are reason to go to the vet to have your dog checked out. Many of the other causes can be treated with TLC at home or just left alone. Snoring (except in the case of sleep apnea) is not harmful to your dog, even if it's a little irritating to you!
No matter the cause of your dog's snoring, they deserve a comfortable place to sleep! Check out Snoozer's line of premium dog beds, made to order and handsewn in the USA using the highest quality materials and craftsmanship. Dogs love our overstuffed plush dog beds and our cozy hooded dog beds, while dog owners love our fully washable Forgiveness line of dog beds and crate pads for accident-prone dogs. Check out our full line and find the right dog bed for your dog!
Read More Posts By Moxie
Moxie the Maltese has gorgeous, silky white tresses—and more than a little attitude! This classy lady likes to travel the world with her owner, Penelope.