Where should my dog sleep at night?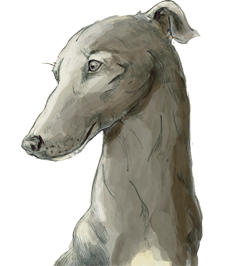 If you've recently gotten a new puppy or you plan to get one soon, you might be wondering where your dog should sleep at night time. Fortunately, most dogs can learn to sleep well in lots of different locations, so it's up to you to find out what situation works best for your family.
Here are options for figuring out where your dog should sleep at night, with some things to consider.
In Your Bed with You
Should your dog sleep in your bed with you? This is one of the most hotly debated topics in dog ownership. Some research estimates that about 60% or more of dog owners let their dogs sleep in bed with them at least some of the time. Most dogs love to sleep right by their owners and sleep well this way, so it comes down to whether you're comfortable with it.
Just keep in mind that this situation isn't ideal for all dogs. Puppies that are still potty training should sleep somewhere else, as they may have an accident in your bed, and older dogs with mobility issues may struggle to get on and off the bed without a little ramp or dog stairs.
On a Dog Bed in Your Room
If you don't want your dog in your bed, but you want them close by, then putting a dog bed in your bedroom is a simple solution. That way, you can feel close, but you don't have to share the bed with your dog. Maybe you want to keep an eye on your dog because they have health problems, or they need to go out for a potty break in the middle of the night, or they
On a Dog Bed in a Different Room
Some owners find it too distracting to have their dog sleep in their room at night. Dogs often wake up during the night between sleep cycles and may make noise settling down again. If this is too distracting and disturbs your sleep, it's better if you get your dog used to sleeping on their bed in a different room.
In a Crate
A crate is another option. Some owners feel bad about putting their dog in a "cage" but many dogs love the feeling of being in a little "den," and they sleep very well in a crate at night. You can place the crate in your room or keep it in another room far away. The crate might be the ideal place for your puppy to sleep while you're potty training, so you can always start by getting your puppy used to sleeping in a crate, then allow them to sleep somewhere else once they're fully housebroken.
Outside
The image of a dog sleeping outside in a doghouse feels old fashioned now in a country where dogs are decidedly indoor pets. But some people still allow their dog to sleep outside and believe it's a healthy and natural place for dogs to sleep. If you go this route you need to ensure they have a safe place to sleep that will protect them from the elements (and potentially other animals like coyotes) and that the outside temperature doesn't drop so low that it becomes dangerous.
Premium Dog Beds and Crate Pads for Great Sleep
Even if you end up choosing to let your dog sleep in your bed with you, it's still smart to give them a place of their own where they can snooze and relax throughout the day. Find the right dog bed for your dog at Snoozer. We have a wide selection of premium dog beds that are made to order in the USA, including plush overstuffed beds, dog sofas, firm orthopedic beds, cozy hooded dog beds, and much more. Don't know where to start? Use our interactive Bed Builder tool to find the best dog bed for your dog. And check out our selection of crate pads and covers that will help turn your dog's plain crate into a cozy retreat.
Read More Posts By Beckley
Beckley was a racing greyhound until he retired at 2 1/2 years old and was adopted off the track. He's super fast when he wants to be, but he actually prefers to take it easy, napping on the most comfortable bed he can find!