Why do dogs sleep with their tongues out?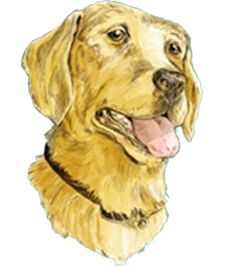 The sight of your dog sleeping with their tongue dangling out of their mouth is endearing. But why do dogs sleep with their tongues out? Is a dog sleeping with their tongue out a sign of something you should know about?
Here are 11 common reasons dogs sleep with tongues out.
Because They're Very Relaxed
A dog that's extremely relaxed, perhaps snoozing on a comfortable dog bed, is more likely to sleep with their tongue out. All muscles, including the tongue, relax during sleep. That makes it easy for the tongue to loll out of the mouth. When a dog is sleeping deeply and is very relaxed, their jaws may open and allow the tongue to come out of their mouth. This happens in humans sometimes, too.
Because Their Tongues are Longer
Even when humans sleep with their tongue exposed, it doesn't go very far because at about 3 inches (measured from tip to a part of the throat called the oropharynx), there's not much tongue to fall out of the mouth. But dogs have significantly longer tongues for their head size compared to humans. Dogs use their longer tongues for lapping up water, grooming themselves, and regulating their body temperature through panting, so it makes sense that they need longer tongues than humans do.
Fun fact: The longest dog tongue ever recorded was 17 inches (43 centimeters) long and belonged to a boxer named Brandy, according to the Guinness World Records.
Because They Are a Certain Breed
Speaking of tongue length, some dog breeds have tongues that are very long for their mouth, especially short-nosed breeds like pugs, boxers, bulldogs, and Pekingese. This makes them more likely to sleep with their tongue out.
Because They're Hot
As you probably know, dogs don't sweat the way that humans do to cool themselves. The primary way dogs regulate body temperature is through panting. Depending on how hot they are, your dog's tongue may loll all the way out of their mouth or just poke out a little to help them regulate their body temperature while they sleep.
Because They're Dehydrated
Dogs also tend to stick out their tongues when they're thirsty, so it's possible they sleep with their tongue out for the same reason.
Because of Issues with the Teeth or Mouth
One reason the tongue stays inside the mouth is because the teeth keep it in. A dog that's missing several teeth or has deformities of the face or jaw might sleep with their tongue out simply because there's nothing to hold the tongue in.
Because of Injury
A dog who suddenly starts sleeping with their tongue out may have an injury to their tongue, mouth, or teeth that makes it more comfortable to sleep with their tongue out. If you've never noticed your dog sleep with their tongue out before, check them for injury.
Because of Hanging Tongue Syndrome
This is what it sounds like – a dog with Hanging Tongue Syndrome has a tongue that hangs down because they can't pull it back into their mouth all the way, so it hangs out. While it may look cute, it's potentially harmful, as it makes them more prone to dehydration, infection, and even frostbite in cold weather. The most common cause is trauma to the face and jaw that affects the nerves. A dog with Hanging Tongue Syndrome will have their tongue hanging out day and night, so if this sounds like your dog then talk to your vet.
Because of Neurological Problems
Damage to the nerves leading to Hanging Tongue Syndrome is one example of a neurological issue that causes dogs to sleep with their tongues out. But other conditions that affect the nerves or spine could potentially be the reason your dog has loss of control of their tongue, causing it to hang out during sleep. As above, if you notice your dog's tongue is out of their mouth 24/7, talk to your vet about it.
Because of Medication
Sleeping with the tongue out may be a side effect of medication, especially if that medication relaxes the muscles.
Because They're Dreaming
A dog might sleep with their tongue out while they're dreaming. You can tell a dog is dreaming during REM sleep because they have rapidly moving eyes beneath the lids and often twitch and make vocalizations like whimpering.
Dogs Sleep with Their Tongues Out for Lots of Reasons
As you can see, there are lots of reasons a dog may sleep with their tongue out! It's usually benign and nothing to worry about. But if you ever notice a sudden change in your dog's habits or behaviors, including suddenly having their tongue out all the time, it's always best to speak to your vet.
Read More Posts By Kia
Kia is a full-sized dog living with a full-sized family! She's full of energy and loves to romp with kids, so whenever Kia is around, you know you're in for an exciting time!