Product Filters
Standard Cozy Cave® Dog Beds
Orthopedic Cozy Cave® Dog Beds
Lookout ® I Dog Car Seats
Lookout ® II Dog Car Seats
Fully Washable Forgiveness Dog Beds
Foam & Memory Foam Dog Beds
Overstuffed Plush Dog Beds
Travel Pads, Covers and Robes
Orthopedic Dog Beds & Products
Every dog is unique, so please be sure to measure your dog and read the specific measurements on each product's page. Read more about how Snoozer sizes products.
1) Smallest : 6-7 inches
Yorkshire Terrier, Chihuahua
2) Smaller : 7-12 inches
Pomeranian, Daschund, Shih Tzu
3) Small : 12-16 inches
Bulldog, Beagle, Miniature Schauzer
4) Medium : 18-22 inches
Chow Chow, Brittany Collie
5) Large : 21-25 inches
Boxer, Golden Retriever, German Shepherd
6) Larger : 24-28 inches
Doberman Pinscher
7) Largest : 28-34 inches
Great Dane, St. Bernard
Showing the single result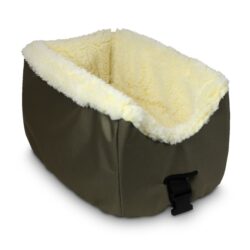 Perfect if you like bringing your dog or pet along where ever you go. The Golf Cart Lookout can also be used as an indoor dog bed. A comfortable foam-forming interior with lambswool padding provides a cozy place for your dog at home or on the road . Available in two sizes and colors.
Features:
Machine washable cover
Includes securement strap
Available in Black and Khaki Waterproof fabric
Holds pets up to 25 lbs
Sizes:
Small: 12 in. H x 21 in. W x 13 in. D
Large: 12 in. H x 18 in. W x 16 in. D
Showing the single result