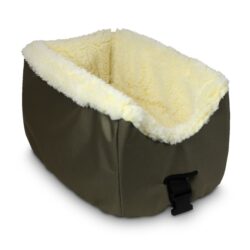 Perfect if you like bringing your dog or pet along where ever you go. The Golf Cart Lookout can also be used as an indoor dog bed. A comfortable foam-forming interior with lambswool padding provides a cozy place for your dog at home or on the road . Available in two sizes and colors.
Features:
Machine washable cover
Includes securement strap
Available in Black and Khaki Waterproof fabric
Holds pets up to 25 lbs
Sizes:
Small: 12 in. H x 21 in. W x 13 in. D
Large: 12 in. H x 18 in. W x 16 in. D

Description
Protect your car and secure your pet with Snoozer's Hammock Bench Seat Protector.  Whether you are taking a long ride or a quick trip to the beach or park, this hammock keeps your car clean and prevents your upholstery from being scratched by pet
'
s nails.  Designed for trucks and
SUVs
, the durable cover strategically hangs between the front and back seat, spanning the entire seat, providing a welcoming hammock style enclosure for your pet.  Made with LiveSmart
®
fabric, the Snoozer hammock is stain resistant, moisture repellant, and has the ultimate in barrier protection.  Attaches easily with headrest belts and locks in to
Features
Machine Washable

Protects car from moisture, hair, dirt, and scratching

Center Zipper feature allows access to pets and a rear passenger configuration

Stain resistant, moisture repellant material keeps pets comfortable and cars clean

Hammock design prevents pet from falling off the seat

Engineered attachment straps keep hammock in place without sliding and provide versatile fit for many vehicles

LiveSmart fabric offers unmatched durability

Reversible to match multiple interiors or freshen the look

SUV Dog Car Seat Features: Fabric: Ripstop nylon with DWR (Durable Water Repellent) finish resists moisture, hair and is easy to clean with simple wiping Filling: foam Bolstered Sides: For added comfort and security Design: Allows comfortable riding in the back of an SUV Warranty: One Year Warranty Shipping: Free shipping in contiguous USA SUV Dog Car Seat®Sizes: One Size Bottom Foam Pad: Width: 40 inches Depth: 36 inches Size of Bolster Wings: Height: 6 inches Width: 3 inches Size...