Description
Description
Old Dog? New Tricks.
The comfort old dogs want, and just the right support old dogs need. The Snoozer Super Orthopedic Lounge features lush, seven-inch egg crate foam on two sides that combines firm support with soft comfort to provide aging or physically challenged pets the perfect place to rest, relax and snooze. The machine washable, waterproof fabric cover is available in a variety of colors with either a black or cream sherpa.
Orthopedic Products Designed To Make A Difference.
When dogs get older, orthopedic products from Snoozer can provide the added comfort and support they need. Orthopedic products can provide perfect place for our four-legged friends to relax and rejuvenate. Durable, made-to-order Snoozer orthopedic beds and ramps are built with your pet's comfort in mind. We use the finest materials, and utilize the latest technology to create the healthiest, most restful experience possible. Dogs get older just like us. From beds to ramps to stairs, Snoozer working to make products that help make old or physically challenged dogs' lives even better.
Features
7 in. convoluted foam pad – both sides
Waterproof fabric cover – available in multiple colors
Machine washable*
* Hang dry- do not use fabric softener
Sizes
Medium: 7 in. H x 28 in. W x 36 in. D
Large: 7 in. H x 30 in. W x 45 in. D
X-Large: 7 in. H x 36 in. W x 54 in. D
Reviews
Your Pet May Also Like:
The Snoozer Scalloped Dog Ramp is the perfect stair solution for any pet who needs help getting up on to furniture or into cars. This pet ramp is built with high-density foam and a wide 21" base that gives it great stability. This makes the Snoozer scalloped ramp and stair solution ideal for supporting larger, heavier dogs up to a 100 lbs. Its light weight high strength foam construction also makes it easily maneuverable. This specially designed scalloped dog ramp comes in three different sizes, so you can be sure to find exactly the right size for you pet.
Features:
Machine-washable micro-suede cover
Made with high-density polyurethane foam
Supports pets up to 100 lbs.
Available in a variety of micro-suede fabrics
Sizes:
Small: 20 inches Deep x 21 inches Wide x 14 inches High
Medium:  25 inches Deep x 21 inches Wide x 17.5 inches High
Large: 30 inches Deep x 21 inches Wide x 21 inches High 
The Snoozer luxury orthopedic Cozy Cave® pet bed is designed for dogs who love to nestle under cover or beneath piles of pillows. The orthopedic Cozy Cave® is topped with a raised hood that satisfies your pet's instinctive desire to burrow. A plush sherpa interior keeps them warm throughout the year.
Microsuede exterior
Sherpa interior
Machine-washable cover
3" orthopedic foam
Topped with 2"" layer of polyester batting for added cushion and comfort
Extra deep sleep surface
Rust-proof brass zipper
Available in a variety of fabric options
Sizes
Small: 25 in. Diameter x 4 in. Sidewall - Hood Height: Approximately 8 in. tall
Large: 35 in. Diameter x 4 in. Sidewall - Hood Height: Approximately 8 in. tall
X-Large: 45 in. Diameter x 4 in. Sidewall - Hood Height: Approximately 8 in. tall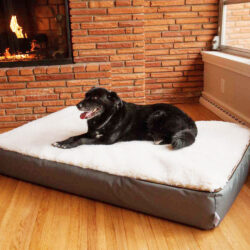 **Replacement Cover Only** Provide your pet with all of the comfort and support he needs. Perfect for an older pet, this pet lounge has a lush 7 in. thick egg crate giving your pet the perfect place to relax. Available in three sizes, you will be sure to find the perfect bed for any pet.
Features
7 in. convoluted foam pad - both sides
Waterproof fabric cover - available in multiple colors
Machine washable*
* Hang dry- do not use fabric softener
Sizes
Medium: 7 in. H x 28 in. W x 36 in. D
Large: 7 in. H x 30 in. W x 45 in. D
X-Large: 7 in. H x 36 in. W x 54 in. D