Welcome to Snoozer Tails! For Dog People. By Dogs.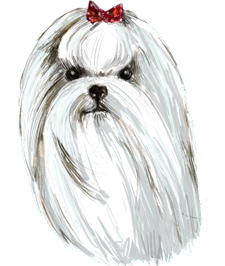 Hello my lovelies! Welcome to Snoozer Tails.
Here's the deal. Snoozer products are made for dogs by dog people, and they are fantastic. But my friends and I noticed that this blog was missing a dog's perspective. We wanted to have a say!
My canine companions and I will be discussing all things dog right here on this blog: dog health and safety, exercise and food, toys and playtime, travel tips, our favorite Snoozer products, and much more.
Now that you know all about Snoozer Tails, it's time to meet gang!
---
Meet Moxie the Maltese
First up – me! My name is Moxie and I'm a Maltese. You know, the little lap dogs with gorgeous, silky white tresses and more than a little attitude? That's the one. We were originally bred to control rodents, but you will never catch me with a rat in my mouth. No way. I prefer filet mignon, medium rare, thank you very much!
I live with Penelope, who takes good care of me. We travel together a lot because I want to see the world and I don't think it's nice to leave Penelope at home by herself. She'd feel so alone!
I also love to spend time with the rest of my clique. Yes, it's my clique, and I'm the boss. What can I say; I'm a natural-born leader.
---
Meet Beckley the Greyhound
Beckley had a totally different upbringing from me, but that doesn't matter to our friendship. He was a racer in Florida until his career ended at 2½ and he was adopted off the track by Meg & Drew.
I know what you're thinking: "A greyhound! He must be fast! He must be super high energy!" Yes and no. When he sprints, he is super fast. But high energy? Not at all. He's all about taking it easy and napping on the softest surface he can find. His laid-back energy is very calming, which is good for me. Sometimes I can be a little high strung!
---
Meet Maple the Dachshund
I've known Maple the longest. He's a dachshund so he's short, like me, but a lot older. I mean, a lot more mature… seasoned… wise. He's always ready with some life advice, whether you ask for it or not! But he's whip-smart and has seen a lot in his time, so his advice is worth taking
Maple lives with Mitch. Two bachelors, enjoying their golden years together. I may be the leader of our group, but Maple is the father figure. He keeps us all in line.
---
Meet Kia the Yellow Lab
Last but not least, Kia. She's a yellow Labrador and is ten times my size, but that doesn't stop us from being best friends. She lives with Hailey & Curt and their little ones, Charlotte & Timmy. I've always admired how good she is with the kids. They love her and she doesn't mind their roughhousing. I'm not sure I could take it!
Kia is super high energy and fun to be around. How could you not enjoy being with her? She just wants everyone to have a good time.
---
Get the Scoop!
So there you have it. Straight from the dog's mouth. My friends and I have so much to cover on this blog! I hope you'll check back soon.
Ciao ciao for now!
Read More Posts By Moxie
Moxie the Maltese has gorgeous, silky white tresses—and more than a little attitude! This classy lady likes to travel the world with her owner, Penelope.