Does My Dog Need an Orthopedic Bed?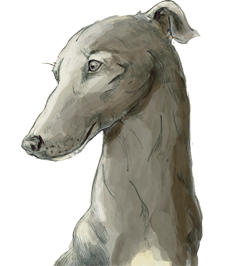 Orthopedic dog beds are just for older dogs, right? Not so fast. Lots of dogs can benefit from orthopedic beds.
Take me. I'm just 4 years old, practically still a pup, but as a greyhound I'm all skin and bones. I need a bed that's extra comfortable and supportive.
What Makes A Dog Bed "Orthopedic"
An orthopedic dog bed is one that provides extra support to a dog's bones and joints, especially the hips and elbows. When a dog lies down on an orthopedic bed, he shouldn't be able to feel the floor through the bed. Some orthopedic dog beds are made with memory foam, but a bed can be orthopedic as long as the fill is thick, durable, and provides enough support.
In contrast, many regular, non-orthopedic dog beds are filled with cedar chips, cotton filling, or polyester filling. This is fine for dogs who won't benefit from extra support. However, sometimes the filling can settle or separate in a way that leads to that floor-through-the-bed feeling, which means your dog isn't getting enough support.
Signs Your Dog Can Benefit From An Orthopedic Dog Bed
If your dog…
– Has a hard time getting in and out of their regular dog bed,
– Is stiff and slow-moving after sleeping all night on their regular dog bed,
– Can't get comfortable on their regular dog bed and keeps changing positions,
– Or doesn't want to sleep in their regular dog bed at all…
Then they may love an orthopedic bed.
Orthopedic beds are great for senior dogs who are more likely to have health issues as they age. But dogs of any age with the following common issues can also benefit from an orthopedic bed:
– Arthritis
– Hip dysplasia
– Joint problems
– Bone or soft tissue injuries
– Very skinny like me
Yes, we greyhounds are known for our ability to track down the single-most comfortable surface in the house. It's not just because we like relaxing (though that's true), it's because we're so skinny, our hips and elbows have no protection from fat or thick fur and need extra cushioning. That's why extra supportive beds are good for thin dogs.
What To Look For In An Orthopedic Bed For Your Dog
Filling: This is the most important factor. Look for a high-quality filling like a solid piece of foam like in my personal favorite my Super Orthopedic Lounge. It should be thick, at least 2 inches, to provide support. At the same time, keep your dog's height and mobility in mind. If the bed is too high, it will be hard for him to get in and out of.
Size: Ideally, large enough so your dog can stretch full out. If your dog has to curl up to fit in the bed, it may just put pressure on his joints, which kind of defeats the purpose.
Cover: Removable, washable covers are great because you can keep the bed clean and hygienic for longer. (Speaking of washable, Snoozer's orthopedic dog beds have removable covers but the Forgiveness Bed goes a step further with a fully washable mattress, too. It's great for dogs who have accidents.)
Design: Orthopedic beds come in all shapes and sizes. Some are flat, while others have bolsters. Pick the one that you think your dog will love.
That's it for orthopedic beds. I hope this blog helped. Now it's time for me to get back to my own Snoozer bed and take a much-deserved nap. 'Til next time.
Read More Posts By Beckley
Beckley was a racing greyhound until he retired at 2 1/2 years old and was adopted off the track. He's super fast when he wants to be, but he actually prefers to take it easy, napping on the most comfortable bed he can find!