6 Tips for Taking Care of Senior Dogs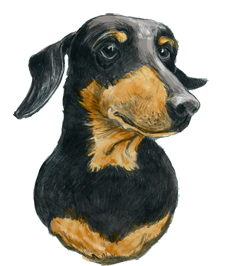 A dog ages 7 years in 1 human year, they say. That's not precisely true, but it is true that we dogs reach our senior years much more quickly than our human counterparts. A small or medium size 11-year-old dog is equivalent to a 63-year-old human, while a large or giant 7-year-old dog is closer to 72 in human years. Senior dogs, like senior humans, need special care and consideration as they age. Here's what you can do to help.
1. Keep track of symptoms and visit the vet regularly
Take note of any changes in physical health or behavior, such as a change in bathroom habits or appetite, quality of coat, and lumps or bumps. Look out for personality changes, too, like increased depression or aggression.
Regular vet visits, meaning at least once a year or more often for ailing dogs, are a must. Report any symptoms you notice to your vet, even if they seem insignificant to you. Keep giving preventative medications and vaccines, and never give your dog human medication without your vet's OK. Don't forget to take care of your dog's dental health too.
2. Monitor Diet and Exercise

Some pet food brands sell special formulas for seniors. You can start feeding these to your dog, or stick with your familiar food and include supplements to help joint and overall health. Common supplements for senior dogs include DHA and EPA from fish oil, vitamins C and E, and chondroitin and glucosamine. Each of these help reduce inflammation in your dog and rebuild and protect joints and cartilage.
As for exercise, keep going on daily walks so your dog has a chance to stretch their legs and explore the outside. Being overweight only makes staying healthy and active more diffiuclt, so keep an eye on their weight, too.
3. Help your dog with Grooming
Dogs with longer hair may need more help with grooming as they age, as they're not as able to take care of themselves as easily. Brush out or remove mats promptly and keep their coats clipped and smooth. Keeping a close eye on your dog's coat and skin will also help you identify and take care of "hot spots," areas your dog has scratched, chewed, or licked excessively which may need medications and/or an e-collar to treat.
Toenails may need more frequent clipping or sanding, as reduced activity means their nails don't wear down naturally as fast as before. Toenails that grow too long can make it more difficult for your dog to walk and can cause pain and even infection if not dealt with.
4. Make Your Home Senior Friendly

I wrote about arthritis in dogs previously, and recommended some simple changes to your dog's environment to make it more comfortable. Snoozer has a range of products for older dogs including orthopedic beds that take pressure off of joints and provide more support than a typical dog bed, as well as a scalloped dog ramp to help smaller dogs like me get where they need to go.
Consider adding rugs and carpets to wood, laminate, and tile floors to help dogs who find it challenging to walk on slippery surfaces, and make sure it's easy to get in and out for potty time.
5. Prepare for incontinence
Many dogs experience incontinence in their senior years. Please don't get mad at your dog when this happens; they don't like it any more than you do, and they won't "learn" not to go in the house if you yell at them for it.
Instead, increase the number of potty breaks throughout the day. Shut off areas of the house that you want to ensure stay clean or put down plastic dropcloths or towels in the areas your dog tends to go. Arm yourself with paper towels and a spray bottle of cleaner to tackle the mess. And if you haven't already, let your vet know about this new development; it may be something that can be treated.
6. Practice Patience

This is my last piece of advice. Your senior pet may not have the same spring in their step as the early days. They may develop separation anxiety. They may become less adaptable and more stressed out by change. But they're still your devoted companion and they love you. Be patient with them. Follow the steps above. Help them to enjoy their golden years and be generous with your time and attention, as they have been with you all these years.
-Maple
Read More Posts By Maple
Maple's a little older, but with age comes wisdom, and Maple is always ready with great life advice! He's seen a lot in his lifetime, and he's happy to be spending his golden years sharing that experience with others.