What to Look For in a Dog Bed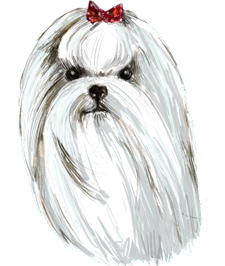 Shopping for a dog bed! How fun. I always say it's the most important piece of furniture in the house. That's why you need to have a little info before you buy the first bed you see.
As a Maltese, I don't need a big dog bed, but I do need my bed to be comfortable, durable, and as sophisticated as I am. Here I'm sharing some of my insight with you on what to look for as you buy your next dog bed.
Dog Bed Filling
First, filling, because that's what determines how comfortable and long-lasting a bed is. Think about the level of support, whether the filling is removable and washable, and, of course, comfort!

Foam is soft and durable and comes in a variety of forms, including foam pellets, foam sheets, and memory foam. Memory foam is the most expensive but most supportive type of filling, ideal for dogs with joint problems. (Read about buying an orthopedic bed from my friend Beckley.)
Cotton filling and polyester filling don't hold their shape as well as foam and can become lumpy over time, but are a good inexpensive option.
Old clothes and bedding can be stuffed into a dog bed cover to make a quick dog bed. It won't provide support that older and arthritic dogs need, but it's an inexpensive, environmentally-friendly way to make a bed for your dog.
Cedar chips are commonly used, too, because they're inexpensive, they smell pleasant, and they're a natural insect repellant. However, they're typically not as cushy as some of the other fillings on this list, so you may want something softer for more discerning dogs.
Exterior Fabric
Dog bed covers come in all fabrics and colors,  and in my opinion, it comes down to three things:
Can the cover be removed and washed easily? (You want the answer to be "yes"!)
Will my precious pooch find this comfortable to sleep on? (Again, "yes" is the correct answer here.)
What goes with my décor? (This one's up to you.)

Some of my personal favorite fabrics are microsuede, which is luxurious yet washable, and Sherpa fabric, which is soft and snuggly. (Coincidentally, those are the two exterior fabrics used to make the Snoozer Luxury Cozy Cave Dog Bed With Microsuede, one of my all-time favorite places to sleep. Check it out!)
Specialty beds also have specialty covers. Outdoor Dog Beds will have weather- and fade-resistant fabric, while Outlast Dog Beds made with Outlast heat management technology help dogs regulate their temperature so they're not too hot or cold.
Style & Size
By style I mean shape and design. Some dogs prefer a flat rectangle, while others prefer beds more like sofas, with bolsters for more support. The Cozy Cave Dog Beds are a unique design that allow dogs to cozy up inside.
As for size, get a bed your dog can stretch out fully on. One can't get one's beauty rest when one is cramped, you know.
Craftsmanship

Quality, darling, quality. It's about the quality of the materials, the way they're put together, and the way they last.
I can't speak for other brands of dog beds, but I do know that Snoozer's craftsmanship is top notch. Most of its dog beds are sewn and assembled by hand here in the USA, with big durable zippers, strong foam and unmatched fabrics. Their attention to detail is second to none!
Happy Napping!
Have fun dog bed shopping. Remember that this is something your best friend will be spending many hours on, so make sure you get something great!
Ciao ciao for now!
Read More Posts By Moxie
Moxie the Maltese has gorgeous, silky white tresses—and more than a little attitude! This classy lady likes to travel the world with her owner, Penelope.