5 Reasons to Foster a Dog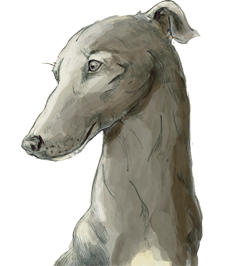 I was a foster dog at one point. In between coming off the racing track and finding a forever home, greyhounds typically have a stopover in a foster home. This is where we get used to life on the outside of the kennel – life with hardwood, slippery linoleum floors, glass doors, and of course comfy couches and beds.
Life inside the kennel can even be dangerous sometimes! Like when big storms that even you humans are scared of come by. Fostering a dog can mean making room for all my other friends who need to be evacuated to safety.
Fostering is a critical part of many adoption and rescue missions, so if you've never thought about it before, or you're on the fence, here are five big reasons why you should choose to foster a dog.
1. Free up a spot for another dog in need.
Many adoption agencies, shelters, and other organizations running a fostering program have limited capacity to care for animals. Each pet they can place in a foster home allows them to take in a new dog that needs care (or safe shelter from a storm nearby!) Fostering can also cut down on the number of animals that are put down because there's simply not enough space to care for them.
2. No long-term commitment.
For people who love animals but can't commit to taking care of a dog for life, fostering is a great option. Depending on the particular program, the foster dog may stay with you from a few weeks to a few months.
3. Less costly.
The majority of programs cover big expenses related to fostering so that pet parents don't need to pick up the full tab. This typically includes things like shots, spaying/neutering, and other medical expenses. Some programs even cover the cost of food while the dog is with you. This can be a real help to families who want to care for a pet but don't have room in the budget for a full-time dog.
4. Change a dog's life forever.
As a greyhound, I'm in a different position from many other dogs who need fostering. My fellow racers and I were well fed and taken care of when we were on the track and were then transitioned to foster homes when our racing careers ended.
Unfortunately, many other dogs aren't so lucky. They may be found in bad shape, abandoned, abused, sick, and afraid of people before they're taken in by a rescue or agency. They may need extra love and care for the time they recover physically or emotionally from what they've been through. They may need some basic obedience or housetraining. Although time with a foster family may be short, it can be the first time in the dog's life where they understand what it means to be comfortable and cared for and how to fit into the role of family pet.
5. Change a family's life forever.
The fostering period is an important time for many dogs to become the dog they'll be for their forever family. By the time they move to their forever home, they should be healthy and used to life in a secure home environment. You help them become this dog by taking good care of them when they're with you.
You'll also learn about the dog's personality (rambunctious, relaxed?), habits (separation anxiety, toy hoarder?) and sociability (cat-friendly, good with kids?) all of which helps the shelter or agency match the dog to the right forever home – upping the chances that the next move will be permanent.
Finding a Dog to Foster
There are lots of places to look if you're thinking of fostering. Call local animal shelters, rescues, and adoption centers to ask about their fostering program, if they have one. If there's a particular breed you love (*cough* greyhounds *cough*), look online for rescues featuring that breed.
There's only one downside to fostering, and that's having to say goodbye. But as tough as it is to say goodbye, it's still worth it in the end.
'Til next time, Beckley
P.S. With the recent 4-legged storm evacuees, shelters in Greenville, South Carolina are too crowded for my puppy pals.  My human friends at Snoozer have already given a bed to each of my 60 furry companions who had to evacuate, and you can help them by shopping at Snoozer because they're also donating 10% of their online sales through Friday, September 21st to the Greenville Humane Society (a no-kill shelter, my favorite).  If you're interested in helping by adopting or fostering a dog, please contact the Greenville Humane Society.
Read More Posts By Beckley
Beckley was a racing greyhound until he retired at 2 1/2 years old and was adopted off the track. He's super fast when he wants to be, but he actually prefers to take it easy, napping on the most comfortable bed he can find!