Choosing the Right Crate for Your Dog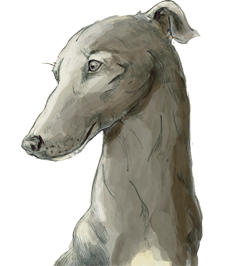 Many of us dogs love spending time in our crates, but choosing just the right one can be a challenge for our humans. Whether your dog loves to sleep in their crate or it's only pulled out for special occasions, it's important to choose one that's appropriate and safe for their size, needs, and habits. Here's what to know about how to choose a dog crate.
Size: Finding the Dog Crate That's Just Right

Your dog's crate should be large enough that they can stand up fully inside it, turn around, and lie down with legs stretched out. If it's smaller than this, it will be uncomfortable for your dog.  
At the same time, you don't want a crate that's too big, particularly if you're house training. House training a dog relies on the fact that dogs (like people) don't like to soil the area where they live and sleep. In an appropriately sized crate, your dog is less likely to have accidents. If the crate is too big, though, your dog may be more likely to make a mess in the far corner. That's why it's best not to buy a crate that's too big.
Dog Crate Material: Wire, Wood, Plastic, or Fabric.
There are pros and cons to each kind of material you select for your dog's crate. Here are some things to consider before making a final decision on a dog's crate material:
     Uses (house training, travel, etc.)

     Dog's habits (aggressive, chewer, etc.)

     Cost

     Weight

     Appearance

     Ventilation

     Collapsible

     Easy to clean
Wire Dog Crates
Wire dog crates are wire on all four sides and on top and are the "classic" dog crate.
Pros: Wire crates are the sturdiest dog crates available and are suitable for rambunctious or aggressive dogs or dogs that are chewers. The all-wire design allows you to easily see your dog from any angle and allows for good ventilation, too. They're typically collapsible, so they can be stored or transported easily, and some come with divider panels that allow the crate to "grow" with your dog.
Cons: Wire crates are heavy compared to plastic and fabric crates, weighing from around 15 pounds to more than 80. They are also not especially attractive and may be an eyesore in the family home.
Wooden Dog Crates
Wood dog crates may be all-wood or a combination of wood and wire.
Pros: Wood crates are designed to be more attractive and to fit in with the home's décor like any other piece of furniture, coming in a variety of wood finishes and colors. Some even pull double duty and function as both a dog crate and a side table.
Cons: Wood crates don't fold and so aren't easy to store or transport. They're typically more expensive than other types of crates, too.
Plastic Dog Crates
Plastic dog crates are usually solid plastic on all sides except for a wire door.
Pros: Plastic crates weigh less than wire versions of comparable size. They're also sturdy, which make them good for transportation and travel with your dog.
Cons: Plastic crates are not collapsible and so are not as easy to store. Also, if there is an accident inside, it can be hard to get the odors out of the plastic entirely.
Fabric Dog Crates
Fabric, or soft-sided, dog crates are usually made of a thick canvas material and often feature mesh panels with zip-up flaps that can be kept closed or opened for ventilation and viewing in and out.
Pros: Soft-sided crates are the lightest of the available crates and they fold, making storage, transportation, and travel very easy. They're also relatively inexpensive.
Cons: Soft-sided dog crates are not appropriate for dogs who are chewers or are very aggressive, as they don't provide the security and structure of wire, wood, or plastic crates. Also, they're trickier to clean if your dog does have an accident inside, compared to other crate types.
Comfort: Making It a Home
No matter what kind of dog crate you choose, you can make it more comfortable for your dog with a high-quality crate pad like the Snoozer Forgiveness Dog Crate Pad. This crate pad is comfortable and attractive, plus it's made with Snoozer's amazing Forgiveness mattress and cover, which are both fully washable, for when accidents happen. Crate pads give your dog a soft place to lie down and are particularly helpful for senior dogs or dogs with arthritis or joint problems.
Crate covers can make your dog's wire crate cozier, warmer, and more attractive. The Cabana Pet Crate Cover from Snoozer has flaps that can be rolled up for ventilation and viewing or kept down for warmth and privacy and is machine-washable, too.
Choosing the right crate for your dog may seem daunting as there are so many choices, but now you know what to look for when selecting a crate that's just right for your dog.
'Til next time, Beckley
Read More Posts By Beckley
Beckley was a racing greyhound until he retired at 2 1/2 years old and was adopted off the track. He's super fast when he wants to be, but he actually prefers to take it easy, napping on the most comfortable bed he can find!