Keeping Your Dog Warm on Cold Days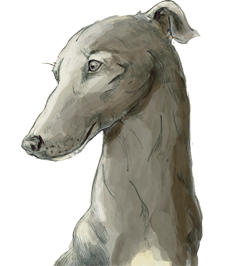 Some dogs were bred for snowy conditions and love nothing more than to be outside when the temperature drops. Other dogs are not as tolerant of the cold and don't relish being outside in the snow.
As a greyhound, I'm definitely in the latter group. With a short coat and practically no fat to insulate me, I need help to keep warm in winter. Other breeds sensitive to the cold include whippets, salukis, chihuahuas, miniature pinschers, and Yorkshire terriers. Dogs with certain medical conditions like diabetes, heart disease, and kidney disease, may also be less tolerant of the cold, too, as their bodies aren't able to regulate temperature well.
If your dog doesn't love the cold, it's important to make sure they stay safe and comfortable during the winter. Just like you humans, we dogs can suffer and develop frostbite and hypothermia if we get too cold. Here are some things you can do to make sure your pet stays warm this winter.
Alter Your Routine
You may find that your typical summertime routine of a long, early morning stroll doesn't work so well when it's dark and literally freezing outside. Instead, change up your routine so that the early morning is for a short potty break only, and save the long walk for later in the day when it's a little warmer. If it's simply too cold to give your dog the exercise they need outside, consider going to a pet-friendly mall or large box store for longer walks indoors, and increase the amount of indoor play at home so your dog has an outlet for their energy.
Also, winter is a good time to leave your dog at home instead of bringing them along to sit in the car while you run errands. A car without the heater on can become very cold very quickly, and like a hot car in summer, it's not a good place for your pet to be.
Dress for the occasion
Doggy sweaters and jackets aren't just cute, they're also very practical. Clothing should fit your dog while allowing them to still relieve themselves easily. If the sweater or jacket gets wet from the snow, make sure it's fully dry before using again. Wearing wet clothes outside will actually make your dog colder, not warmer.
And don't forget the paws. Very cold temperatures can injure your dog's pads and cause them to crack or bleed. If you live in a snowy climate, consider getting booties for your dog's feet. They'll protect their delicate pads and may help your dog stay outside for longer. Whether you opt for booties or not, keeping paw hair trimmed is also a good idea as that hair can pick up ice and snow which can ball up and stick to the feet.
Get the Right Bed
You want to keep your dog warm at home, too. The right bed is a good start.
One option is the Snoozer Outlast Dog Bed. This premium dog bed uses Outlast heat management technology with a space-age material developed for NASA that keeps the it the perfect temperature for comfort – not too cold in the winter, not too hot in the summer. It also has an odor-fighting insert, the Snoozer Odor Adios, to keep it fresh.
Another great option is one of the Snoozer Cozy Cave Dog Beds. These beds are soft inside and allow your dog to burrow inside for true comfort and warmth. They come in sizes from small to extra large to accommodate dogs of all sizes.
Keep Them Warm, Keep Them Safe
Don't assume that your dog is impervious to low temperature just because they have fur. Dogs can suffer when it gets too cold, even dogs that were bred for the cold climate. Hopefully you have some new ideas on how to get through the chilly winter while keeping your beloved dog safe.
'Til next time, Beckley
Read More Posts By Beckley
Beckley was a racing greyhound until he retired at 2 1/2 years old and was adopted off the track. He's super fast when he wants to be, but he actually prefers to take it easy, napping on the most comfortable bed he can find!