Should your dog sleep in the bed with you?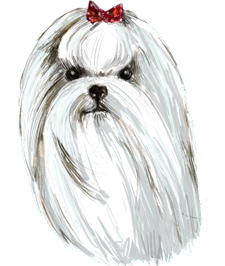 Bonjour my lovelies!
One question many dog owners have, especially first timers, is whether they should let their dog sleep in the same bedroom, or even the same bed.
From my point of view, snuggling up together for a nap is one of the great joys in life. My owner Penelope seems to think so, too, and as does about 50% of the pet-owning population in this country, all of whom sleep in the same bedroom (and possibly bed) as their pets.
But there are certainly pros and cons to allowing your dog to sleep in bed with you.
Pros and Cons of Your Dog Sleeping in Your Bed with You
When it comes to sharing a bed with your dog, the pros are mostly emotional while the cons are mostly health-related.
Pros include a stronger human-dog bond. Co-sleeping can reduce anxiety and create a feeling of comfort for the human. It can also bring a feeling of safety and security. Some people believe that as pack animals, dogs should be near their humans at night for their own happiness and security. Finally, dogs provide warmth! This is a great advantage on a cold winter's night.
Cons of co-sleeping include the possibility that your allergies (if you have them) will get worse sleeping so close to your dog through the night. Quality of sleep may also be affected, mainly because dogs wake up more often in the night and may stand up and find a new position to sleep in, which can then wake you up.
When to Rethink Co-Sleeping with Your Dog
The pros and cons above assume that your dog is well-behaved, well-adjusted, and knows their place in the family hierarchy. If they are aggressive, possessive, or overly dominant you should work on correcting those behaviors before allowing your dog to sleep in your bed.
Dogs who are going through house training or who are incontinent should also not be sleeping next to you in bed. (For obvious reasons!)
Have an Alternative Place to Sleep
Even if you love co-sleeping with your pup, there will be nights when either you or your dog will not want to sleep in the same bed. That's why you should have a comfy and well-designed bed in your room just for your pooch! You dog will be spending roughly 13 hours a day sleeping, so its important that he or she has a bed, sofa or crate pad that provides enough support and comfort.
My favorite dog beds are from Snoozer. They're made in America and they are sooo comfortable. There are many different kinds, too, depending on what your dog likes and needs.

Cozy Cave Dog Beds are like a comfy bed and snuggly blanket in one! Your dog can curl up inside and relax for a good night's sleep.

For dogs who have accidents from time to time, the Forgiveness beds are ideal because they are not only comfortable but completely washable, not just the cover but the mattress, too!

If your pooch tends to get hot and cold, then the Outlast dog beds are just the thing, made with materials developed for NASA that regulate heat to keep the bed (and your pooch) Not too Hot, Not too Cold.
There are lots of other great Snoozer dog beds in different sizes, shapes, fabrics, and patterns, all for different needs, so check them out! Use our Snoozer Bed Builder to quickly find the right Snoozer bed for your dog! Simply select your dog's size/breed and the Bed Builder will guide you through all of your options to find the perfect fit for your pup. This way, if you do need to have the bed to yourself for a night or two, you'll know that your dog is experiencing the best in dog beds.
That's it from me. I'm off to sleep, next to my Penelope, of course!
Ciao ciao for now!
Read More Posts By Moxie
Moxie the Maltese has gorgeous, silky white tresses—and more than a little attitude! This classy lady likes to travel the world with her owner, Penelope.