House Training Your Puppy with Success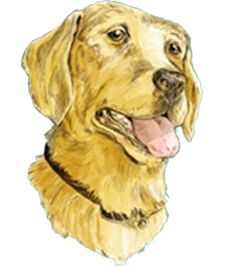 Everyone's favorite topic – house training! While training your puppy to go to the bathroom where you want them to is certainly challenging, it's also a crucial skill you must help them learn. Here are some house training basics.
How to House Train Your Dog: 3 Methods
The following three house training methods are recommended by the American Kennel Club. Pick the one that works best for your family and stick with it.
Method 1: Outside only
Take your puppy outside a LOT. That's the key to this method. Take them out first thing in the morning, after waking from a nap, after meals, before you leave the house for a while, before bed time, AND throughout the day, at least once an hour. Stay with your puppy outside while they go and let them have extra time if you think they do need to go.
This method works because the puppy is taken outside so frequently, they rarely have the opportunity to have an accident inside the house. Pros: Your puppy only ever "goes" outside and doesn't have to stay in a crate while inside the house. Cons: Frequent trips outside means this method only works if someone is available throughout the day for weeks or months on end, which isn't practical for many families.
Method 2: Crate house training
Keep your puppy in a crate at all times while they're inside the house until fully trained. When your puppy needs to go, they'll let you know by giving a signal and that's the time to take them outside, STAT!
This method works because dogs don't like to "go" in their crate where they spend all their time. Pros: This method prevents accidents happening in the rest of the house, because the puppy never has the opportunity to have an accident. Cons: You have to keep your puppy in a crate when indoors, which many families don't like.  
Method 3: Paper training
Place puppy pee pads in location that's easy for your puppy to access and keep using that same spot, ideally, for the duration of the training. Your puppy shouldn't have unsupervised times roaming the house freely, so either keep a close eye on them or keep them in a crate while indoors. Place the puppy on the pad when you think they need to go, and if they don't, put them back in their crate and wait about 10 minutes and try again.
This method works because they learn to go in just one place – on the pee pads, which are always in the same spot. Pros: No accidents in the house (assuming the puppy is always supervised or in their crate), and a good alternative for people who can't take pets outside because of scheduling conflicts, mobility issues, or perhaps because it's just too cold out. Cons: Unlike the two methods above, doesn't teach the puppy to associate elimination with the outdoors. That will require training later.
No Matter Which Method You Choose
No matter which you decide is right for your family, there are some things you should do:
    Keep dog on regular feeding schedule, as this makes potty time more predictable.

    Regular exercise keeps things moving internally!

    Pay attention to your puppy's signals that they need to go, such as whining, barking, or scratching, which you'll learn to recognize over time.

    Praise! When your puppy goes in the right place, reinforce the behavior with a treat, a few minutes' play with a favorite toy, or vocal praise.

    Don't punish! If you discover an accident after the fact, it's too late to "teach a lesson." Just clean the area well so it doesn't become the go-to spot for future accidents.   

    Expect mistakes. This is a learning process for your puppy and will take some time. Give them that time!
Snoozer to the rescue!
Snoozer understands that sometimes accidents happen, so it has a few products that can help. The Forgiveness Sofa is unlike other dog beds because it's fully washable – yes, the mattress too, not just the cover! It's breathable and super comfortable, too! There are also Forgiveness Crate Pads that are comfortable and fully washable. While ideally an accident won't happen in the crate, it's best to be prepared!
The most important elements for success in house training are a method you stick to, consistency, and patience.
You can do it! Good luck!
Read More Posts By Kia
Kia is a full-sized dog living with a full-sized family! She's full of energy and loves to romp with kids, so whenever Kia is around, you know you're in for an exciting time!