How to Keep Your Dog's Teeth Clean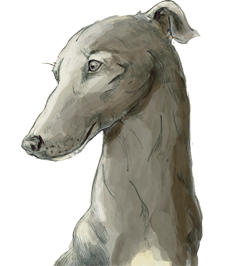 Just like our human companions, we dogs need to take care of our teeth and gums. If we don't, we can suffer similar problems: decay, tooth loss, swollen and painful gums, system-wide infection, and more. It's not just a cosmetic issue – it's a health issue.
I know a lot about the subject because I'm a greyhound, and we're known for having bad teeth. Hey, it's not our fault. Most of us grew up on the racetrack, on a diet that's not conducive to great dental health, without regular dental care.
That changed when I was adopted by Meg & Drew. Now I have good, clean teeth. I can feel proud when I show off my greyhound grin.
Here's how to keep your dog's pearly whites pearly and white.
Take Your Dog to the Vet Once a Year for Dental Cleaning
Just like humans need regular hygiene visits, so do dogs. The difference is, most vets put dogs under anesthesia during tooth cleaning (though there are some that don't). If your dog needs any extra work, such as tooth extractions, those can be done at the same time while he's under.
Since this procedure usually requires anesthesia, it does come with some risks. Most vets offer or insist on blood work before putting your dog under, because they want to know your dog is healthy enough to handle anesthesia.  
Another risk is breed-specific. For greyhounds like me, certain types of anesthesia are not advised, since our bodies don't metabolize the drug the way other dogs do. If you have a greyhound or other sighthound, make sure your vet knows about your dog's special needs when it comes to anesthesia. Better safe than sorry.
Brush Your Dog's Teeth Yourself
No one likes this. I hate getting my teeth brushed and I know Meg hates brushing my teeth. But you know what, it's worth it. If you only get your dog's teeth cleaned once a year, you're giving plaque and bacteria a lot of time to build up in between vet visits.
You don't have to do it every day, twice a day, but try to do it several times a week. You can use a toothbrush designed especially for dogs or a soft-bristled toothbrush for humans. But don't use human toothpaste. Most human toothpaste has ingredients like fluoride, detergents, and other chemicals that aren't good for your dog. Plus, mint flavor? Yech. I prefer my doggy toothpaste flavored like chicken or peanut butter.
Wait til your dog is relaxed and reclining and then introduce the toothbrush. Hold his lips away from his teeth and brush gently. For how long? As long as you can. If you make it a full two minutes, I'll be very impressed. Most dogs I know won't put up with it for that long. As long as you get all the surfaces, you're making a difference.
Or Wipe Them
If your dog truly CANNOT STAND the toothbrush, consider wipes instead. These are easier to use and typically less unpleasant. Cover your finger with one and wipe the surface of your dog's teeth. Still not as fun as sprinting or cuddling up for a nice nap on my Snoozer bed, but it could be worse.  
Give Teeth-Friendly Treats and Toys
A treat's a treat's a treat. Except for treats that are actually good for your dog's teeth. They're typically made with a texture that helps rub buildup away and with ingredients that help freshen breath. These treats do the trick.
Some toys are also marketed as being good for your dog's oral health. They're often textured chew toys that are hard to destroy and help dislodge the plaque and tartar
It's For Your Dog, and For You
I didn't want to mention it but doggy breath – it's not a pretty thing. And even if you don't mind your pet's… uh… fragrance, I bet friends and strangers do. Keeping your dog's teeth clean is not just good for his health, but for his breath, too.
'Til next time. Beckley the Greyhound.
Read More Posts By Beckley
Beckley was a racing greyhound until he retired at 2 1/2 years old and was adopted off the track. He's super fast when he wants to be, but he actually prefers to take it easy, napping on the most comfortable bed he can find!