How To Puppy-Proof Your Home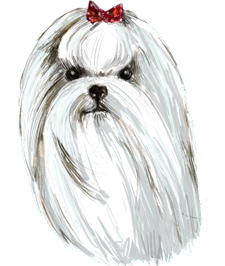 Bonjour my lovelies!
Is there anything greater in the world than an adorable, furry, snuggly little puppy? I don't think so!
But part of preparing your pup to become part of the family is preparing your home. Here are some tried-and-true tips for puppy-proofing. 
Put a Lid on It! (The Trash, That Is)
Many dogs like to get into stinky trash (though I'm not one of them – ew!) and will make a major mess if given the chance. The simplest solution is to get trash cans with lids for the kitchen and all the bathrooms and keep them closed. If you have a baby, make sure your diaper pail is covered, too! 
Put the Kitty Litter Tray Away
Some dogs (again, not me!) like kitty litter and will chew it when given the chance. (Again, ew!) If you have a cat, put the litter tray somewhere your puppy can't access it, perhaps in a laundry room or bathroom with a gate that only allows access to the cat.
Get Baby Gates
Speaking of gates, baby gates are very useful for puppy proofing. Put them at the top or bottom or stairs or in the doorway of rooms you don't want the puppy playing in. Before they're housetrained, you may want to keep them out of several rooms, and let them in once you're confident they won't have any accidents.
Keep Cords Out of Reach
Puppies like to chew and they may have fun chewing your cables and cords. This isn't just a nuisance to you, but can lead to electrocution injuries to your poor pup. You can't get rid of cords and cables in your home, but you can keep them out of reach or keep them bundled and covered up with cord bundlers, tubing, and PVC cord covers that you can find online. 
Check for Toxic Substances
You already know that some common plants and foods are dangerous to dogs, so before you bring your new baby home, walk through and make sure these potentially toxic items are out of reach!
Also be sure to keep prescription and over-the-counter medicines safely away, as a new puppy may find it fun to gnaw on the plastic pill container and could accidentally open it. If you have some pill bottles on your nightstand or coffee table, put them away in a drawer or cabinet.
Same with batteries, cleaning supplies, and other chemicals. Anything you wouldn't want a little kid getting into, you don't want your puppy to have access to – put it away!
Expect Accidents
Hopefully house training goes smoothly, but there are still likely to be bumps along the way, so be prepared! You can stay a step ahead by keeping a "kit" ready to tackle accidents with a roll of paper towels, a white rag or washcloth, and a cleaning spray that's formulated to tackle pet stains.
I also highly recommend the Forgiveness dog bed by Snoozer! While many dog beds come with a washable cover, the Forgiveness bed comes with a washable mattress! It's also breathable, comfortable, and very stylish.
Once you've done these things, you can feel more secure about welcoming your furry bundle of joy home and do the most important thing – have fun with your new puppy!
 Ciao ciao for now!
Read More Posts By Moxie
Moxie the Maltese has gorgeous, silky white tresses—and more than a little attitude! This classy lady likes to travel the world with her owner, Penelope.