How to Wash a Dog Bed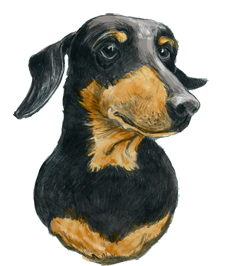 Dirty dog beds. Ew. Not only are they smelly, but by the time you realize it's time for a wash, the bed is undoubtedly laden with dirt, dander, fur, germs, and possibly even unwanted critters like ticks and fleas. For the sake of your dog's health, and the sake of your home, wash the dog bed! It doesn't have to be hard. Here's how to clean a dog bed.   
Start by Shaking or Vacuuming
Before anything else, start by getting the loose fur, dirt, and other debris off the dog bed by vigorously shaking it outside or by giving it the once-over with a vacuum. You might want to get into the habit of doing this a few times a week to keep the bed fresher between full washes.
Pro tip: If your dog's hairs are short and tend to stick in the fabric, making it hard to vacuum them out, use a lint roller, or run a shower squeegee over slightly wet fabric to loosen hair before shaking or vacuuming. (This same trick works on car upholstery, too!)
Spot Treat and/or Spot Clean as Needed

If the bed has one or more isolated tough stains that have already dried, considering pre-treating and/or spot cleaning. You can use any laundry pre-treatment or cleaner you like that's safe for the fabric, but enzyme formulas are particularly good at getting out organic stains that contain protein such as blood, vomit, and urine.
Machine Wash
Most dog beds these days come with removeable, machine washable covers, like our Snoozer dog beds. Simply follow the care instructions on the tag for washing and drying, using the hottest settings allowable. (Drying on hot for 30 minutes is the best way to kill germs, but some fabrics shrink in the heat.) If the cover and bed are extra dirty, you may want to add a pre-soak or an extra rinse at the end of the cycle, too. If the tag is missing or faded, play it safe and wash the dog bed cover in cold water with a pet-safe laundry detergent then hang to air dry, or tumble dry low.
As for the dog bed itself, some can be washed in the washing machine, too. Again, follow the care instructions on the tag, or if the tag is missing and you're not sure whether it's machine washable, follow the steps below to hand wash it. Otherwise, take your chances and wash it in cold water and low spin if it's a sturdy foam or polyester and/or cotton fill. Do not wash cedar chip beds in the machine, and beware that some delicate foam fillings can break up and lose their shape in the machine.
Is your dog bed too big for your washing machine at home? Take it to a laundromat and use one of the big machines there.
Or Hand Wash
This is the best option when the dog bed is too large or you're not sure it will hold up in the washing machine. Soak the bed in warm or hot water in a sink or tub for at least 10 minutes. Add a small amount of your pet-safe laundry detergent to the water and squeeze the bed with your hands to agitate it and get the dirt out. Clean away surface stains with detergent, baking soda, or plain soap. Rinse clean and until the water runs clear, then (gently) squeeze out as much water as possible.  
What about cedar chip dog beds? The only way to properly wash these beds is to remove the cedar chips first before washing, then replace. If the chips have lost their fragrance, replace them with new chips. These are easy to find at pet stores and other retailers.
Air Dry or Tumble Dry Low
To dry either air dry or tumble dry low depending on the fabric and your personal preferences. To air dry lay the dog bed flat on a clean surface outside to dry in the air and sun, if possible, or flat on a towel inside near a fan or an open window for some air flow. Wait until the bed and cover are completely dry before reassembling. This can take several hours, depending on the material and thickness of the bed.
How Often Should I Wash My Dog's Bed?

Now that you know how to wash a dog bed right, you may be wondering how frequently you should do it. Many experts recommend washing the dog bed once a week, but that may not be right for you and your family. If your dog rarely uses their bed and is quite clean, you may not need to wash it as often. If your dog snoozes on their bed practically 24/7 and like to cover it in mud, slobber, treats, and so on, you may want to at least wash the cover a couple times a week.
Get the Right Dog Bed for Your Dog
Picking the right bed in the first place can help you in your mission to keep your dog's bed clean. Finding one with a removable, machine washable cover is a must! Or if you've got a puppy who's still house training or a senior dog who's having accidents around the house, the Snoozer Forgiveness dog bed is a good choice. With a machine washable cover and a mattress that was designed to be washed frequently, you'll find it easy to keep it clean.
Whatever dog bed you choose for your dog, you'll be doing your dog and yourself a favor by washing the dog bed regularly.
Read More Posts By Maple
Maple's a little older, but with age comes wisdom, and Maple is always ready with great life advice! He's seen a lot in his lifetime, and he's happy to be spending his golden years sharing that experience with others.