How to get dog hair out of car seats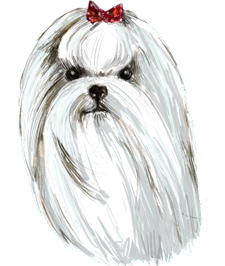 Hitting the open road with your dog is the best! Cleaning dog hair off your car seats afterwards is decidedly not. Fortunately, there are several solutions to this problem, and just a little bit of time (and elbow grease) will get your car seats dog hair-free. Here's how.
How to get dog hair out of car seats

Start with a once-over with the vacuum to grab any loose dog hairs. This is the fastest way to get dog hair out of car seats and works for fabric seats, leather seats, and carpeting, too. Use a handheld model or, if you don't have one of those, then try the vacuum you find at the gas stations. Go over the seats and flooring, and don't forget about armrests, under the seats, and other nooks and crannies. Dog hair seems to have a magical way of getting absolutely everywhere!
If you have leather seats, a thorough vacuuming might be enough to get them clean to your liking. With fabric seats, you might need to take it a step further. That's because dog hairs – especially short ones – can get firmly stuck into the fibers, making it tough to just vacuum out. Here are a number of simple methods to clean dog hair from the car:
–   Lightly spray the fabric with water, then run a rubber gloved hand over the fabric to collect the hairs into little balls, then let dry and vacuum up
–   Similarly, run a rubber squeegee over slightly damp fabric to gather it together for easy vacuuming
–   Use a large lint roller or lint brush
–   Roll duct tape or packing tape around your hand with the sticky side facing out to grab hairs
–   Wipe seats and other surfaces with unscented dryer sheets
Use what you have on hand and see what works for you!
How to prevent dog hair from covering your car seats
An ounce of prevention is worth a pound of cure, and that's true when it comes to keeping your car dog hair-free! Now that you know how to get dog hair out of car seats once it's already there, try some tips to reduce the amount of dog hair that gets there in the first place.
Groom your dog frequently
If you have a dog with a heavy coat, regular trips to the groomers will remove excess fur so they're less likely to shed in the car. This can make a big difference, especially when you notice it's that time of year when they blow their coat. If you're not a big fan of the groomers, a thorough bath at home can help, too.
Brush your dog
Along the same lines, make sure to brush your dog before they get in the car. Just a couple minutes with a dog brush can pull out a lot of hairs that would otherwise end up on your seats.
Buy a dog car seat cover
Finally, the right car accessory can help. If you have a larger dog that sits in the backseat, a dog hammock for the car like the Snoozer Heavy Duty Reversible Dog Seat Cover is perfect. Machine washable and extremely durable, this car hammock is easy to attach and covers the backseat area fully plus the backs of the front seats. It not only keeps your car clean, but your pet safe, preventing your pooch from falling off the backseat. And with a center zipper, you can configure it so your dog can share the backseat with a human companion while riding in comfort and safety.
If you have a smaller dog, place them in a Lookout or Console dog car seat. The raised Lookout dog car seats elevate your little dog so they can look out the backseat window and see the world go by, while the Console, which attaches securely to the console in between the driver and front passenger's seat, gives them a view of the road up ahead. It's not only a great way to keep dog hairs off your seats, but it's a safe and comfortable place for your pet to ride, too! 
Don't Let Dog Hair Stop You
Cleaning dog hair out of your car seats is no fun, but that's no reason to let it stop you from enjoying some time on the road with your best friend. Try the tips above to keep dog hair off your seats, and stash some simple tools in the glove compartment for quick clean-up, and you'll never have to worry about cleaning dog hair from your car again.
Read More Posts By Moxie
Moxie the Maltese has gorgeous, silky white tresses—and more than a little attitude! This classy lady likes to travel the world with her owner, Penelope.