How to travel with a dog?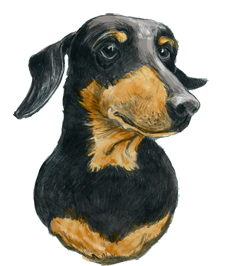 Having a dog doesn't mean you have to give up travel. You can bring them along and make them a part of your adventures, whether you're traveling with your dog by car or plane. It just takes some planning ahead.
How to travel with a dog: the essentials

No matter what your method of travel or your destination, there are some things that you should always do before you leave home with your pet on a trip.
Identification
Up-to-date ID tags. Check to make sure that the information on your dog's tag on their collar is current, ideally your cell phone number so someone can easily reach you. (If you'll be out of the country in a place where your cell number won't work, consider having a tag made with an email address you'll check regularly instead.)
Up-to-date microchip information. While you're updating information, don't forget your dog's microchip (if they have one), which is easy to overlooked. If your dog is separated from you at some point and ends up at a shelter or a vet's office, their microchip will be scanned so the shelter or vet can get in touch with you. You can easily check and update your dog's microchip information with the microchip registry online.
Health and safety
Vaccine records. Get your dog current on shots and bring a copy of their vaccination record with you. At some point on your trip you may want to board your dog for a few days or a few hours, and they'll likely want to see your dog's vaccination record. (If you forget to bring it with you, ask your vet to fax it to the facility instead.) If you're flying, the airline will also likely want to see this information.
Medications. Bring any medication your dog needs with you, including heartworm medication and flea prevention or control, and anything else they take regularly or occasionally.
How to travel with a dog in the car
Hitting the open road with your hound? Here's how to make your road trip more pleasant for you and your pet.
Safety first: restraints. Your dog needs to be restrained whenever the car is moving. You have several options for restraints that work well in the car, including a dog harness that attaches to the seatbelt, their crate, or a dog car seat that keeps them secure.
For smaller dogs, the Snoozer Lookout is a raised car seat that allows them to see out the backseat window, while the Snoozer Console Seat is designed to give small dogs a safe and comfy spot on the console between the driver and front passenger seat. Both have a place to attach your dog's harness and the seat itself is securely attached, so you can focus on the road instead of worrying about your pet's comfort and safety.
Have a bigger dog? Then check out the Snoozer Dog Car Seat Cover, which fits over the entire back seat and up the back of the front seats, creating a "hammock" that prevents your dog from falling off the backseat or climbing up into the front. The SUV Cargo Bed is another option for big dogs, if they ride in the back. This memory foam pad with a three-bolster design fits in the back of your SUV to give your dog a cushioned place to rest for the ride.
Tackle carsickness. If your dog tends to get queasy in the car, plan ahead. For severe motion sickness, ask your vet about medication to give your dog to combat nausea and prevent vomiting. You can also try cracking the windows, having them face forward, and helping them relax, all of which can help alleviate the discomfort of dog car sickness.
Take frequent breaks. Pull over every 2-4 hours on your drive to give your dog a chance to stretch their legs, get some fresh air, and go potty. This is also a good time to offer some water. Many highway rest stops are dog friendly and have areas to walk your dog.
How to travel with a dog by plane
Traveling with your dog by air takes more preparation but it can be done.
Research the airline's policy. Many airlines have a pet policy that allow pets to fly in the cabin and/or in the hold of the plane. (Note that as of December 2020, the US Department of Transportation has reclassified emotional support animals so they are no longer considered service animals.) But since airlines are different, check first to find out their policies on restrictions on age, size, breed, crates for travel, length of flight, and time of year before you book your ticket.
See your vet. Visit the vet no more than 10 days before your flight for a health certification and get your vet's approval for travel. Flying can be taxing and you want to be sure your dog is healthy enough it.
Prepare for the flight. With check-in, waiting for takeoff, the flight itself, and getting luggage on the other end, it's a long time. Prepare by taking a long walk before checking in and give your dog a chance to go potty. Avoid feeding your dog soon before the flight, but do give water, as flying is dehydrating.
Travel in style. Your dog's crate is one choice for air travel, whether in the cabin or in the hold. Another choice is the Snoozer Roll Around Travel Dog Carrier Backpack 4-in-1. This is a rollable dog carrier, convenient backpack, safe car seat, and snug dog bed all in one that's a great option for small dogs. Once you're at your destination, the Snoozer Travel Mate Luxury Bed makes for a comfortable (and cleanable – the cover is machine washable!) spot for your pooch and folds up into a convenient carrying case for travel.  
Make new memories
Traveling with your dog is a wonderful way to bond and make new memories. By putting safety first and focusing on your dog's comfort, you'll make the trip more enjoyable for everyone, whether that's on the road or in the sky.  
Read More Posts By Maple
Maple's a little older, but with age comes wisdom, and Maple is always ready with great life advice! He's seen a lot in his lifetime, and he's happy to be spending his golden years sharing that experience with others.