How to travel with a dog in a car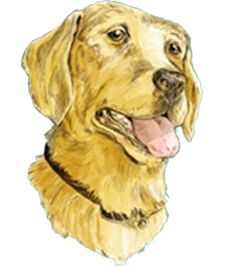 You don't need a long checklist to prepare for a quick trip with your dog in the car to the drive-thru ATM. But if you're taking your dog in the car with you on a long road trip, you should take steps in advance to make the trip safe and comfortable for everyone. Here's what to do before you hit the road and during car travel with your dog.

How to prep your dog for car travel
Check in with your vet
Before going on a long road trip with your dog, visit the vet. You want to make sure your dog is up to date on all their shots and is healthy enough for travel. Get a copy of the vaccination records to bring with you. You may need to show them if you go to a doggy daycare, overnight boarding facility, or groomer's at some point on your trip. If you know your dog suffers from car sickness, you can ask your vet about prescription or OTC medication to help with nausea, too.
Wear your dog out before a road trip
The day of, plan ahead by leaving a few hours in between feeding your dog and hitting the road, especially if your dog tends to get car sick. Travelling on an empty stomach means they're less likely to feel ill. Then get some exercise in to help wear your dog out. A long, brisk walk or a game of catch in the backyard can help get some of that energy out so they're more relaxed for the ride ahead.
Pack the essentials 
Check you've packed everything your dog will need. That includes up-to-date dog ID tags, leash and collar; food, water, and bowls; pet waste bags; medicine your dog needs, including heartworm and flea medication; and a comfortable dog bed (like the foldable Snoozer Travel Mate Luxury Bed) to sleep on at night during the trip. Don't forget treats, favorite toys, clothing, and other extras that will make life better for your dog when you're away from home.
How to travel with a dog in a car
Protect your pup and your car
How you transport your dog in the car depends on their size and where you want them to be for the ride, and there are plenty of options to choose from. The one thing you shouldn't do is let your dog have free rein in the vehicle. This is dangerous for them and for you, if you're in an accident or have to stop suddenly, as they can fly forward with great force and injure themselves or other passengers. Plus, the right set-up will not only protect your pup, but your car, too.
Securing your dog in their crate and then attaching the crate to your car is one safe option. It's important to secure the crate to your car's seatbelt system, otherwise the entire crate can fly forward in the event of a crash or sudden braking. You can put a seatbelt around crates that are small enough to fit, or use a safety strap that hooks to the crate on one end and plugs right into the seatbelt buckle. However, if you don't have a crate or don't want to travel with one, you have other options.
Bigger dogs can sit in the backseat, secured to the seatbelt system with a harness or on a seat cover. The Snoozer Dog Car Seat Cover covers the entire back seat (or can be configured to accommodate a dog and another passenger in back) and clips onto the backs of the driver's and front passenger's seat. This keeps your car seats clean and protected while restraining your dog and keeping them from falling off the backseat.
If you have an SUV, your dog can ride in the cargo area on a cargo dog bed. This keeps them safely away from the driver's seat in their own separate area. Protect the cargo area and give your dog a comfortable, supportive place to travel with the Snoozer SUV Cargo Bed, which fits in the cargo area to accommodate a large dog or multiple smaller dogs.
Smaller dogs have even more options. A doggy car booster seat not only keeps your dog safe, but raises them up so they can see out the window. The Snoozer Lookout Dog Car Seat is designed for small dogs up to 25 pounds. It attaches to the backseat and has a place to hook your dog's harness to for safety. Plus you can add on the Travel Rack featuring two separate compartments so your dog always has food and water available during the trip. Pooches up to 20 pounds can ride with you in front, secured to the middle console in the Snoozer Console Seat. Not only comfortable and safe, but it gives them the best view in the house!
Lock doors and power windows 
This is a quick and simple way to ensure safety. Keep doors locked and the windows up, preferably with a child lock on so your pooch can't accidentally lower the windows or open the door en route!
During the trip
Plan to stop every few hours. Even if you prefer powering through, you should give your dog a break every 2-4 hours so they can go potty, get some air, and stretch their legs. Give water or make it available during the trip, too.
If it's warm, keep the AC on so your dog doesn't overheat. To keep your dog cooler during the ride on sunny days, attach window shades to the backseat windows. You can find backseat window shades that stick on with suckers, cling to the window like film, or hook over the top. This is a great way to keep your pup cooler by keeping the direct sun off them.
Remember to never leave your dog alone in a hot car. It doesn't take long for the internal temperature of the car to rise – even in the shade, even when it's not "that" hot out – which can lead to heat stroke or even death. Many cars come with (or can be equipped with) remote start systems that let you keep the doors locked and the AC running while you're outside, which is something to consider if you plan on taking many solo trips with your dog. (After all, at some point you're going to have to go to the bathroom, and you can't bring your dog in with you.)
Travel with your dog in the car
There's nothing like a road trip with your best friend! Just a little prep and you can ensure a fun, comfortable, and safe ride for you both.
Read More Posts By Kia
Kia is a full-sized dog living with a full-sized family! She's full of energy and loves to romp with kids, so whenever Kia is around, you know you're in for an exciting time!