Do dogs sleep with their eyes open?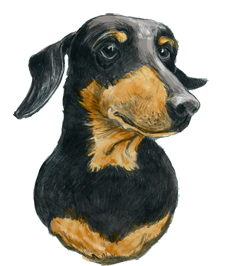 It can be a disturbing and spooky sight – your dog's asleep, lying motionless or maybe twitching gently during a dream, but you can see their eyes are open.

Is your dog actually sleeping with their eyes open?
Here's what's really going on.
Dogs (usually) sleep with their eyes closed
Contrary to what you may think, it's a myth that dogs sleep with their eyes open. They sleep with eyes closed, just like humans do, except in rare circumstances (discussed below). The reason it looks like they're sleeping with their eyes open is because of the anatomy of the dog eye.
When humans sleep, the upper eyelid and lower eyelid close together completely, and dogs often sleep like this, too. But they can also sleep while the eyeball is covered by the nictitating membrane (from the Latin word "nictare" meaning "to blink"). Also called the "third eyelid," this membrane is common in many animals and is found in several mammals, birds, amphibians, and reptiles, and just one type of fish – the shark.
The way the membrane covers the eyeball can give the illusion that your dog's eyes are open and the eyeballs are exposed, but that isn't the case. In fact, sleeping with eyes open would cause the eye to dry out within minutes, which is bad for eye health. Eyelids and membranes are vital to keeping the eye moist day and night, even during sleep.
When dogs do sleep with eyes open
Although dogs usually sleep with their eyes closed, there are some cases where they sleep with their eyes open and eyeballs exposed.
Treatment under anesthesia
Treatment under anesthesia can cause your dog to be fully asleep while their eyelids are open, but this is temporary and will end when the anesthesia wears off. In the meantime, the vet will make sure your dog's eyes remain moist and healthy.
Cherry eye
Cherry eye is the name of a condition where the nictating membrane falls out of place. It's typically a congenital issue and is more common in bulldogs, beagles, bloodhounds, Cocker Spaniels, and a few other breeds. Because the membrane doesn't work properly, it can't cover the eye while sleeping and that may be the reason a dog sleeps with their eyes truly open. If left untreated, cherry eye can lead to dry eye and cause long-term damage.
Lagophthalmos
Lagophthalmos is a physiological condition where the upper and lower eyelids can't close completely. A dog can be born with it or develop it over time. It can happen in any dog but is more common in short-nosed breeds like pugs, Pekingese, Shih Tzus, and Lhasa Apsos. Lagophthalmos (which comes from the Greek word for "hare," because of the myth that hares sleep with eyes open) should be treated because, just as with cherry eye, long-term damage can occur from dry eye or physical injury to unprotected eyeballs.
Keeping an eye out for your dog's eye health
Now you know that what looks like your dog sleeping with their eyes open is most likely just the third eyelid (nictating membrane) making it look that way. But if they truly are sleeping with eyes open and eyeballs uncovered, go see your vet ASAP. As stated above, when the eyes aren't fully closed or covered during sleep, they can dry out, causing discomfort, and are more vulnerable to infections or physical injury that can impair sight. It's best to have your pup's eyes checked to make sure they're healthy.
Read More Posts By Maple
Maple's a little older, but with age comes wisdom, and Maple is always ready with great life advice! He's seen a lot in his lifetime, and he's happy to be spending his golden years sharing that experience with others.