How to get dog hair off a couch?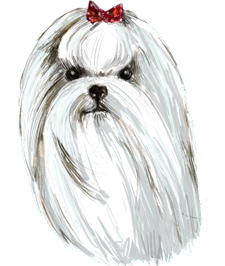 There's nothing like snuggling up with your dog on the sofa. But what to do about all the dog fur that gets everywhere? Here are some quick and easy ways to clean dog hair off your couch to keep it clean and comfortable.

The Best Ways to Get Dog Hair Off Your Couch
Shake it out
Grab the removable cushions, take them outside, and shake, shake, shake! Give them a few whacks while you're at it. This simple, low-tech technique can get rid of a surprising amount of dog hair and dust.
Grab the vacuum
The next step up is to grab your vacuum. A handheld model is the easiest kind to use for this task, but you can also use the hose attachment on the regular upright vacuum, too. Give the cushions and fabric a pass with the vacuum to pick up loose hair.
Use a tool
A once-over with a vacuum may not get out all the hair. Very short or coarse hairs have a way of sticking on and in woven fabric, making them challenging to get out. Never fear! You can use one of these items around the house to help:
     

A lint roller or lint brush – use as you would on clothing

     

A roll of thick tape – wind packing tape or duct tape around your hand, sticky side out, and press on the fabric to pull out stubborn hairs

     

A rubber shower squeegee – lightly spray the fabric with water first, then run it over the surfaces

     

A rubber glove – wipe your gloved hand over slightly damp fabric to gather up the hair
Follow this step up with another quick vacuum.
Reduce shedding
You can't stop your dog from shedding, but you can take steps to make sure that when do, the dog hair doesn't end up on your furniture.
Start by brushing your dog regularly. This simple act only takes a couple minutes, and it can remove a surprising amount of loose fur and dirt that would otherwise end up on your couch. Plus, it's a nice way to bond, and your dog will love it!
Give your dog a bath. Use a dog shampoo to wash their fur, massaging vigorously, then rinse clean and dry thoroughly.
Take your dog to the groomer on occasion. A trip to the groomer for a coat trim and bath will help thin out their coat, meaning there's less fur to leave around the house.
Protect your couch
Another way to reduce the amount of dog hair on your sofa is to protect the sofa itself. Drape an easy-to-wash sheet or blanket over the part of the sofa your dog likes to lie on. Or give your dog a treat and protect your sofa at the same time with the Snoozer Couch Companion Bolstered Sofa Throw. This sofa cover has bolsters on three sides and is made with a plush chenille jacquard fabric for your dog's comfort. It works on sofas, loveseats, and oversized chair, and can be placed on the floor like a regular dog bed when you need to free up a seat. It's a simple and stylish way to keep your sofa free from fur while giving your pooch a comfy place to snooze – what's not to love?  
Dog-hair-free couch
Don't give up snoozing on the sofa with your dog due to dog hair. By grooming your dog, covering your couch, and trying the quick cleaning tips above, you can have both the clean couch and all the sofa snuggles you want!
Read More Posts By Moxie
Moxie the Maltese has gorgeous, silky white tresses—and more than a little attitude! This classy lady likes to travel the world with her owner, Penelope.