How to ride a bike with a dog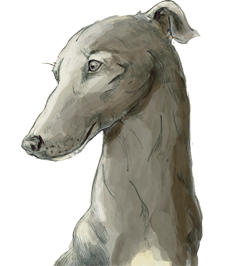 You like biking. You like spending time with your dog. Can you combine the two? Yes!

Here's how to ride a bike with your dog.
Dog runs alongside you
If you've got a larger dog who loves to exercise, try this. You bike while your dog trots or runs beside you. This way, you get in your biking time and your dog gets their much needed exercise.
But there are some safety issues to be aware of. First, make sure your dog is fit enough for this kind of exercise, and don't overdo it. It's best to follow your dog's pace and stop when they look like they've had enough. Also, look into bicycle dog leashes. These attach to your bike so you can keep both hands on the handlebars instead of trying to hold onto your dog's leash while you bike. And since they are made of a sturdy baton that juts out from the bike frame, it keeps your dog a safe distance away so they don't run too close and get caught up in the wheels. Finally, many are designed to buffer your dog's pulling motions, so they don't pull hard and cause you to topple over.
Dog sits in a bike basket
For small dogs, this is the way to go! Your dog can sit in the basket and watch the world go by as you pedal. Little dogs can't keep up with running alongside as you bike for very long, so it's better to just let them enjoy the ride along with you.
Traditional bike baskets work, but bike baskets made for dogs are even better. The Snoozer dog bicycle basket fits on the front handlebars of your bike, giving your pup a great view and a place to perch that's comfy and safe (a clip inside attaches to your dog's harness, so they can't escape). For slightly bigger dogs up to 24 pounds, the Dog Rider bicycle lookout seat attaches to the rear bicycle rack and provides the same safe and secure ride.
Dog rides in a bike trailer
This is a good solution for dogs that are too big to ride in a basket but are either too small or not able to run alongside as you bike. Dog bike trailers attach to the back of the bike so your dog can ride along behind. Most dog bike trailers are built on a sturdy base with two large wheels that can accommodate uneven terrain, and some have advanced suspension systems that give a smoother ride. They come in different sizes to accommodate different breeds, with some holding up to 110 pounds or more, so even big dogs can get in on the fun!
Check in on your dog often if you choose this option. Dog bike trailers are typically made with lightweight fabric with mesh panels so your dog can get plenty of fresh air and you can look in to see how they're doing.
Biking with your dog
Going for a bike ride with your dog is a great way to bond, get outside, and get some fresh air together. The best part is that there's a way for dogs of all sizes, ages, and health conditions to join you on the ride, whether that's in a dog bike basket, a dog bike trailer, or simply running by your side. So get out there and bike with your dog!
Read More Posts By Beckley
Beckley was a racing greyhound until he retired at 2 1/2 years old and was adopted off the track. He's super fast when he wants to be, but he actually prefers to take it easy, napping on the most comfortable bed he can find!