How to help a dog with arthritis at home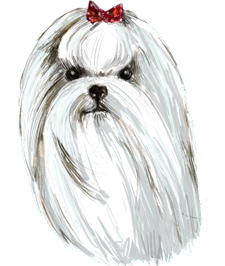 Arthritis in dogs is a sadly common affliction: one in five dogs will suffer from arthritis at some point in their lifetime, according to the Arthritis Foundation. If your dog has been diagnosed with arthritis, or you suspect they may have arthritis, you may want to know how to alleviate your dog's pain. Here are some things you can do in the home to help your dog with arthritis.

Go Orthopedic
Arthritis causes pain in the joints, making it painful and difficult to stand up and lay down. Continuous pressure on the joints can also exacerbate pain. That's why it's important to choose orthopedic dog beds or dog sofas for your arthritic dog. Orthopedic beds and sofas are typically made with sturdy foam that are comfortable but at the same time provide support to the joints, relieving pressure and reducing pain. They may also be designed to be easier to get in and out of compared to normal beds.
If you're looking for an exceptionally durable, comfortable, and stylish orthopedic dog bed, check out Snoozer's line of orthopedic dog beds and sofas, which are great for dogs with arthritis and older dogs with joint issues.
Also, if your dog spends lots of time in multiple rooms throughout the day and night – say, the family room, the office, and the bedroom – consider getting a bed for each location so they always have a supportive place to rest and relax on no matter where they are in the house.
Improve Accessibility
Improve accessibility to make sure that your dog is able to easily and safely access all the parts of your home, indoor and out, that they need to. Depending on your dog's mobility, you may want to use a variety of products to make life easier for them.
For example, dog steps or ramps can help your pup climb up to your bed or the couch rather than jump up, which might be too painful or difficult with arthritis. Outdoor ramps on the front or back steps of your home make it easier to go out for potty breaks and exercise and to come back in. Folding ramps or stairs can help your dog get in and out of the car. Whatever you can do to make it easier for your dog to get where they need to go, the better it will be for their health, safety, and comfort.
Another product to consider is a half-step riser that can be placed in front of a tall step, like a single step leading into the front or back door. There are many half-step risers on the market designed to help (human) seniors with mobility issues, and they work well for mobility-challenged dogs, too!
Reduce Slipping
Dogs with arthritis and joint pain often have a harder time walking and balancing on slick tile or hardwood flooring. If you have slick flooring, cover it with something non-slip like an attractive rug with a rug pad underneath or foam padding squares. (Yoga mats work, too, but you may need a lot of them!) You don't have to cover the entire floor, either, just the areas your dog needs to walk on.
It's especially important to make sure your indoor stairs, if you have any, are easy for your dog to climb. If your stairs aren't carpeted, you can find rectangle-shaped non-slip treads that can be placed on each individual step to provide grip.
Easy Exercise
Although it may feel good for your dog to rest, it's best for them to get gentle exercise every day in order to keep the joints limber and the muscles strong and keep your dog at a healthy weight. Too little activity can actually end up making the pain from arthritis worse.
Swimming is excellent for dogs with joint pain, as it doesn't put any pressure on the joints. Walking is also a great exercise for your arthritic dog; just make sure not to overdo it. If you see your dog slowing down or showing signs of pain, they've had enough. You may want to go for a few short walks during the day instead of one long walk, which might be too much for your dog to handle at one time.
Massage and Heat
Massage doesn't just feel nice, it can help relieve the pain of arthritis by improving circulation and causing the release of serotonin, a neurotransmitter that promotes feelings of well-being and happiness. Gently massage your dog for 10-15 minutes a day, focusing on hips and legs but not overworking any one area, which can lead to more inflammation.
Heat is also good for arthritis, as it brings blood to the area to help repair damage and reduces stiffness in the joints. Heating pads placed on the joints on the low setting, or purpose-made dog heating pads your dog lies on, can help your dog feel better, especially in the wintertime when it's cold.
Speaking of, cold makes pain from arthritis worse, so make sure your dog stays warm during the winter. Keep your home at a comfortable temperature and consider putting your dog in a cozy sweater or coat when it's cold.
Supports and Wraps
If your dog's mobility is severely affected by arthritis, a harness or sling can help with mobility. Ultimately, a harness or sling helps you help your dog. They're especially helpful for bigger dogs, since it's more difficult to carry a 60-pound dog up the stairs or lift them in and out of the car than a little one. Talk to your vet or look online for a support harness or sling.
Another thing to consider is a compression wrap for your dog's affected joints. These wraps, which can reduce swelling and pain, are more effective on some joints (such as the wrist/ankle) than others (such as the hip). Again, talk to your vet about your options.
Providing a Safe and Comfortable Home
Arthritis is a chronic condition, but it doesn't mean your dog has to live in constant pain. Making sure your home environment is safe and accessible for your dog will go a long way in helping relieve their pain and make life easier.
Read More Posts By Moxie
Moxie the Maltese has gorgeous, silky white tresses—and more than a little attitude! This classy lady likes to travel the world with her owner, Penelope.