What time should puppies go to bed?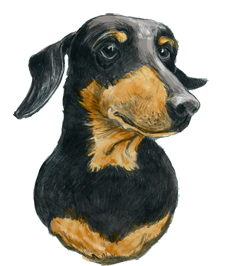 As puppies get older, they don't need to go to the potty as often and their sleep in between trips outside will lengthen. Many puppies can sleep all night without getting up to go potty somewhere around 6-8 months, and nearly all puppies do this by 1 year.

What Time Should My Puppy Go to Bed?
There is no hard-and-fast rule about when a puppy should go to bed for the night. The ideal time depends in large part on you and the schedule your family keeps.
Many owners like to put the puppy to bed for the night close to their own bedtime, whether that's 9 pm or midnight. Try this and see if it works for you. This way you'll be sure to get at least a few uninterrupted hours of sleep while your puppy is sleeping, too.
You may find that an earlier bedtime is better, especially if your puppy is getting overtired in the last hour or two. Know the signs of an overtired puppy so you know what to look for. Puppies that are too tired may nip and nibble at you, have the "zoomies," or show signs of stress and anxiety including excessive thirst, panting, lip licking, and whining. The best way to calm down an overtired puppy is to put them in their crate to relax and help lower those adrenaline levels. If your puppy is consistently showing signs of being overtired at night before bedtime, consider moving their bedtime a half hour or hour earlier.
Help Your Puppy Sleep Well at Night
Your puppy's bedtime should be different from daytime naps to help them distinguish between this longer sleep at night and shorter sleeps during the day.
Ideally, your puppy will go down for bed inA new puppy at home means a whole new daily routine. Not only are you adding a new member to the family, but puppies have high needs and require a lot of attention and care as they learn about the world around them.
While you can't expect life with a puppy to go exactly according to schedule, it is a good idea to introduce your puppy to a routine so they know what to expect during their day. Having the same bedtime every night is one key element of that routine.
How Much Sleep Do Puppies Need?
Just as with babies, puppies need a lot of sleep at the start and less and less as they get older. Brand new puppies can sleep up to 22 hours a day total. By the time most people bring their puppies home around 8-10 weeks old, they'll probably sleep 18-20 hours in a 24-hour period. It's not until your puppy's all grown up that they'll be able to get by on 12-14 hours a day.
How Long Can Puppies Sleep at One Time?
Even if your puppy is sleeping 20 hours a day, it may not feel that way to you. That's because puppies need to go potty every few hours when they're young, so you can say goodbye to sleeping 8 hours straight at night – a quiet and dark environment free from distractions. You may want to crate your puppy overnight, especially if you're still potty training, but plan to take your puppy out at least once overnight to eliminate. Puppies under six months old shouldn't be contained in a crate for more than 3-4 hours at a time without an opportunity to go out.
When you do take your puppy out for middle-of-the-night potty breaks, make it intentionally boring. Turn on as few lights as possible, keep your voice low, and don't engage your puppy in play. This should help your puppy transition back to sleep more easily.
A Comfortable Place to Sleep, Night and Day
Whether you're using a crate or not, your puppy should have a safe and comfortable place of their own to rest and relax. Check out Snoozer's wide selection of dog beds and crate pads, including fully washable dog beds and crate pads, which are perfect for puppies who still experience accidents during potty training.
Read More Posts By Maple
Maple's a little older, but with age comes wisdom, and Maple is always ready with great life advice! He's seen a lot in his lifetime, and he's happy to be spending his golden years sharing that experience with others.