How to tell if your dog has arthritis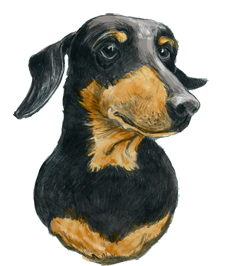 Arthritis is sadly common in dogs, with up to 1 in 5 dogs developing a form of arthritis in their lifetime. It's especially common in senior dogs, as it tends to develop with age. If you've noticed some changes in your dog's movements recently, or if your dog is just getting on in years and you want to know more, it's a good idea to know the signs of arthritis in dogs so you can recognize them in your dog.

What is arthritis? Can dogs get rheumatoid arthritis and osteoarthritis?
"Arthritis" is a general term for a chronic condition where there's swelling and tenderness in the joints, but there are different types of arthritis that are fundamentally different in nature.
Rheumatoid arthritis (RA) is an autoimmune disease that can affect the whole body. The immune system mistakenly attacks the joints, causing inflammation that leads to swelling and pain. Osteoarthritis is instead a degenerative disease. With osteoarthritis, the cartilage and connective tissue between the joints breaks down over time. Neither type of arthritis can be cured but both can be treated very successfully.  
Which arthritis type do dogs get? While dogs can suffer from both rheumatoid arthritis and osteoarthritis, osteoarthritis is the more common type seen in dogs.
Look for common signs of arthritis in your dog
Your dog can't tell you about the symptoms they're experiencing, so you need to look for signs.
     

Reduced mobility and range of motion compared to what they used to do, including difficulty getting up or sitting down smoothly and difficulty climbing up or down stairs

     

Stiffness and slowness that are more pronounced in the morning or after getting up from a long rest or nap

     

Limping or favoring some legs over others

     

Odd sitting or standing postures that seem to relieve pressure or force on one leg or joint

     

Reluctance or refusal to do certain physical things such as jump up onto the sofa or into the car, especially if they used to do those things with ease

     

Accidents around the house suddenly even though your dog is house trained

     

Nonspecific signs there's something wrong: Changes in your dog's weight; energy levels; eating, drinking, or sleeping behaviors; and/or mood (depression or aggression)
Dogs have an instinct to hide their pain so if you notice the signs above, it means the condition has worsened enough that they can't hide it anymore. If that's the case, take the next step to get a proper diagnosis and treatment.
Get a diagnosis from your vet
You may suspect your dog has arthritis but until you get a diagnosis from a veterinarian, you won't know for sure. If you tell your vet that you're concerned your dog might have arthritis, here are some things that might happen next to get a diagnosis:
Physical exam.
Your vet will probably start with a physical exam of your dog, looking for things like swelling or tenderness of the joints, a restricted range of motion, muscle atrophy, and more.
Imaging.
Simple radiographs like X-rays are effective at discovering signs of arthritis in affected joints, especially if it has progressed beyond the early stages. While X-rays have been the go-to imaging technique for a long time, more and more vets are using MRIs and CT scans in the diagnosis process, too.
Joint fluid collection and analysis.
The fluid that lubricates the joints, called synovial fluid, can reveal a lot about your dog's joint health. A needle is used to collect fluid from the joint and then analyzed to help determine what kind of arthritis it is, rheumatoid arthritis or osteoarthritis.
Your vet may want to perform other tests as well, including some like blood tests or urine tests that aren't useful in diagnosing rheumatoid arthritis or osteoarthritis directly, but can help in ruling out other diagnoses. (However, a blood test can be used to diagnose septic arthritis, a rare form of arthritis caused by infection.)
Next steps after diagnosis
Once you have a diagnosis, you can move forward with a treatment plan recommended by your vet. It may involve lifestyle changes, changes to your home environment such as switching to an orthopedic dog bed, and arthritis medications. Although arthritis is a chronic condition, it doesn't mean your dog has to live in pain for the rest of their life. You can help them stay healthy and regain mobility to improve their quality of life so you can look forward to many more happy years together.
Read More Posts By Maple
Maple's a little older, but with age comes wisdom, and Maple is always ready with great life advice! He's seen a lot in his lifetime, and he's happy to be spending his golden years sharing that experience with others.