How to carry a dog on a hike?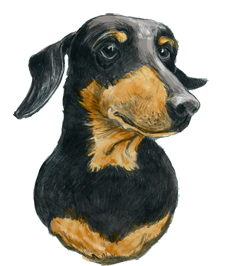 Whether your dog is too little to hike a long trail, is injured injury, or you just like to be prepared, it's good to know how to carry your dog on a hike when necessary. Here are a few ways to carry your dog out on the hiking trail you should know about.
Put Your Dog in a Dog Carrier Backpack
If you know that you'll need to carry your dog at some point on the hike, then bring along a dog carrier backpack. Best for smaller and small-medium dogs, a pet carrier backpack is a great way to carry your dog on a hike because it's designed to keep them securely inside so they can't escape (which could happen with a regular backpack) while being comfortable enough for healthy dogs to stay in a few hours at a time without a problem. A well-designed dog carrier backpack can also be comfortable for you, too, and it lets you stay hands free!  
For dogs up to 30 lb., check out the durable versatile Snoozer Roll Around Travel Dog Carrier Backpack 4-in-1 that's not only a dog carrier backpack – great for hiking! – but also a rolling carrier, dog bed, and dog car seat.
Carry an Emergency Dog Harness / Rescue Dog Harness
Designed for emergency situations, emergency/rescue dog harnesses are sturdier than everyday dog harnesses designed for walking. If your pet sustains an injury on a long hike, you can put them in this harness and carry them the rest of the way, either by the handle on your side or slung onto your back. While it's not as comfortable as carrying your dog in a dog carrier backpack, the emergency dog harness does have two advantages over a dog carrier backpack – one, it accommodates much larger dogs, and two, it can be folded up and easily carried along with your other hiking gear for use only in emergency situations. If you think your dog can handle the hike themselves but want to be prepared in case of an accident, bring along an emergency/rescue dog harness just in case.
In Your Arms or Over Your Shoulders
What if you're on the trail and find yourself with an exhausted or injured dog but no dog harness or dog carrier backpack? The easiest solution is to carry your dog. Small dogs can easily be held in your arms in front of you, but you'll quickly get tired carrying your large dog that way if you have far to go. Instead, position them over the back of your neck with their legs and paws over your shoulders (like a fireman's carry) and carry them that way. This method uses your shoulder and back strength and for long distances it's better than holding a large dog in your arms in front of you.
Another Option: All-Terrain Dog Stroller
If keeping your hands free isn't mandatory, you can also transport your dog in an all-terrain dog stroller. These three-wheeled dog strollers keep your dog secure inside and have large wheels to handle bumpy terrain. Pushing your dog in a stroller on your hike might slow you down, but it is an option to keep your dog safe and comfortable, plus it keeps you from putting weight on your back.
Being Prepared
There's nothing like going out for a hike with your best friend by your side. But nature is full of surprises, so be prepared! Bring along something to carry your dog if they become injured while you're out hiking, whether that's a dog carrier backpack or an emergency dog harness, as well as essential supplies like water and a first-aid kit. Health and safety – for both you and your dog – always come first.
Read More Posts By Maple
Maple's a little older, but with age comes wisdom, and Maple is always ready with great life advice! He's seen a lot in his lifetime, and he's happy to be spending his golden years sharing that experience with others.