How to make a dog sleep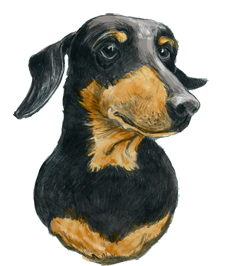 Is your dog keeping you up at night because they simply won't go to sleep? Or does your dog wake you up in the middle of the night, ready to start the day? If so, it's time to help your dog get into a sleep pattern that's better for both them and for you. Here are some steps to try to make your dog sleep.
Build a Bedtime Routine
Bedtime routines don't just work well for little humans, but for dogs, too. Having a nighttime routine signals to your dog that it's time to start winding down and get ready to sleep. For example, you might take them out for one last potty break, then lead them over to their bed and give them a little back rub and some belly scratches, then say good night and switch out the light. The key is to follow the same steps every night so your dog knows what to expect next.
Provide Enough Exercise During the Day
Your dog may not go down to sleep easily or stay asleep long if they have too much energy. Work off that energy during the day by taking your dog on a long walk or two and giving them some free play time to run around the yard or the dog park. You might think your dog is getting enough exercise already, but try adding more and see if it helps burn off their energy so they can sleep better at night. Remember that certain breeds need more exercise than average and that younger dogs need more than older dogs.
Address Medical or Health Concerns
Your dog may have problems sleeping because they're in pain from a medical condition. It could be something chronic, like joint pain from arthritis or kidney disease, in which case you can talk to your vet about adjusting any medication they're on or trying another treatment approach in order to relieve pain. Or your dog could be suffering from something temporary, like an upset stomach or a urinary tract infection (UTI), in which case their sleep will go back to normal when the condition passes.
Disrupted or altered sleep might be one of the first signs your dog exhibits when sick, so don't ignore it. Keep track of any other new or unusual signs so you can discuss them with your vet if you have any concerns.
Take Care of Anxiety
Dogs, just like humans, have a hard time winding down and going to sleep when they're anxious. If your dog has anxiety due to a big life stressor (such as a recent move or loss of a family member), or if they're simply anxious by nature, then address the anxiety to help them sleep at night. Some things you can try include giving them extra exercise and more time to play, trying natural supplements or essential oils, and putting them in a compression vest or shirt, which works well for some dogs. Medication for anxiety from your vet should be a last resort.
Try Sleep Aids
Some dog owners have found success with different types of sleep aids. Things like melatonin, CBD supplements, and dog chews use natural ingredients that are said to help calm dogs down.
Over-the-counter medications like Benadryl (or more specifically, its active ingredient diphendyramine) can also cause sleepiness. There are also prescription sedatives and other medications that are designed to help your dog sleep. Always speak with your vet before starting your dog on medication so you can do so in the safest manner, avoid adverse drug interactions, and know what side effects to look for.
Give Your Dog a Cozy Place to Sleep
Your dog will sleep better if they have somewhere comfortable and cozy to sleep. For dogs with painful joint conditions like arthritis, having the proper supportive dog bed can make all the difference between being able to stay asleep and being up all night.
Find premium dog beds at Snoozer for every kind of dog, from little dogs that like to burrow in hooded dog beds to dogs that love the feeling of an overstuffed plush dog bed to older dogs that need the support of a sturdy orthopedic dog bed, and everything in between. Our dog beds are made in the USA and made to order from premium materials. Browse our selection and find the right sleep-inducing dog bed for your dog today!
Read More Posts By Maple
Maple's a little older, but with age comes wisdom, and Maple is always ready with great life advice! He's seen a lot in his lifetime, and he's happy to be spending his golden years sharing that experience with others.