Showing 25–36 of 189 results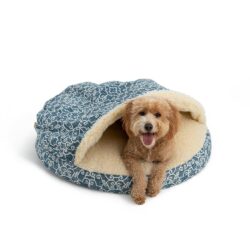 Just when dogs and dog owners thought Cozy Cave® couldn't get any better, along comes The Wag Collection—the happiest collection of Cozy Caves® yet, featuring the same colorful, vibrant line of fabrics as our fashionable Pool and Patio beds.
Dogs love Cozy Caves® because they feel safe and warm inside. Now owners love them because they can better complement their home decor and bring flair to practically any room.
The Snoozer luxury orthopedic Cozy Cave® pet bed is designed for dogs who love to nestle under cover or beneath piles of pillows. The orthopedic Cozy Cave® is topped with a raised hood that satisfies your pet's instinctive desire to burrow. A plush sherpa interior keeps them warm throughout the year.
Microsuede exterior
Sherpa interior
Machine-washable cover
3" orthopedic foam
Topped with 2" layer of polyester batting for added cushion and comfort
Extra deep sleep surface
Available in a variety of fabric options
Sizes
Small: 25 in. Diameter x 4 in. Sidewall - Hood Height: Approximately 8 in. tall
Large: 35 in. Diameter x 4 in. Sidewall - Hood Height: Approximately 8 in. tall
X-Large: 45 in. Diameter x 4 in. Sidewall - Hood Height: Approximately 8 in. tall
Showing 25–36 of 189 results