What Size Should You Get?
As a general rule ,when in doubt get the larger size. Why? Because if the size you choose is too small, it will not do at all. If it is perhaps a little too big, at least it is big enough and it will do. Returning shipped items can be very expensive to you, because you pay to ship it back, and your refund is reduced by the amount it cost to ship to you. So please choose your size carefully.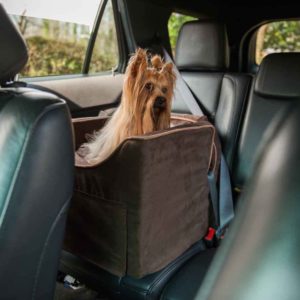 There are four Lookout Dog Car Seat sizes to choose from: Console Lookouts for teacup size dogs, Small Lookouts, Medium (Oversized) Lookouts, and the Large Lookout (which fits only in your back seat). The Lookouts were designed and made for dogs sitting up. However, we find that most customers want their pets to be able to lie down. For that reason, you may wish to consider oversized Lookouts. Before you make a decision, please consider the advice below and then return to the Dog Car Seats Page to decide and order.
If you want to be sure your pet can lie down in a particular Lookout, take a piece of newspaper or butcher paper and cut it to the interior dimensions of each Lookout, available here . For a visual representation, place your pet on each piece of paper and have it lie down. This takes some work, but it's better to take this time now than to buy the wrong size!
Round and Rectangular Pillows, Pet Sofas and Other Pet Beds
There are three rules of thumb often used when answering this question.
Measure the Pet Lying Down
Use the Weight of the Pet
When in doubt get the larger, not the smaller size
1)    In general we believe it's best to measure your pet lying down as it is normally does. Measure from nose or front legs, to back legs or rump; add nine to 12 inches. Choose the bed that best fits those measurements, remembering that round bed measurements are in diameter (width across the circle).
2) Using weight, for our standard Snoozer round pillows, which can be applied, with some judgment, to our rectangular pillows, use the following guidelines (the inches sizes are the diameter [width] of the pillow):
– Small — 24in. round — pet up to 25 lbs
– Medium — 35in. round — pet up to 40 lbs
– Large — 43in. round — pet up to 85 lbs
– Xtra Large – 54in. round — pet up to 140 lbs – 175 lbs
Weight is always a guess-timate; for best results — measure first!!!!! When in doubt, better to get the larger size, than the smaller. Small is always and forever too small, and will never do. Too big will do better than too small, which wont do at all.