Top Travel Tips for Road Trips With Your Dog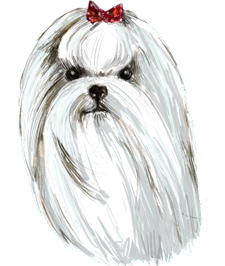 Hello my lovelies! Good to see you again.
As you'll remember from my first blog, I'm Moxie the Maltese, and I LOVE to travel. This time I thought I'd share some wisdom I've gathered over the years on how to have the safest, most enjoyable road trip with your dog. Voila. Enjoy!
1. Never leave your dog alone in the car!
Let's start with the most important tip: Do not leave your dog alone in the car! Even if it doesn't seem that warm out, it doesn't take long for the interior to get hot. For example, at just 70º outside, after 10 minutes the inside is 89º, and after 20 minutes it's almost 100º! Leaving your dog in the car with no AC can cause severe illness or even death. It's too awful to think about.
Please, don't leave your pet alone! If you must, consider installing a remote start system in your car, or bring an extra set of keys, so you can leave the AC on and also lock the car from the outside.
2. Keep your dog comfortable & secure
Restraining your dog during car travel isn't just a safety issue, it's a comfort issue, too. Dogs feel more relaxed when they feel safe. Here are some options:
Crating. Some dogs are happy to travel inside their crate, particularly if they're used to being crated at home. I would NEVER, but if this gives your dogs a familiar, comfortable environment they might appreciate their traveling home.

Harness. Dog harnesses go over the dog's body and attach to the backseat seatbelt. Harnesses not only keep us from distracting you, they also keep dogs secure if you have to brake suddenly.
Dog car seat. This is my choice. I'm crazy for the Snoozer Lookout Dog Car Seat. It's not only secure, buckling into the back seat, but it's exceptionally comfortable and very elegant, too! The raised design lets me look out of the backseat window and see the world. AND I'm safe and secure with my harness clipped into the safety strap. I wouldn't travel without it!
As for comfort, bring a pillow or two, a blanket, or something else your dog can snuggle up on in the back seat. Even better if it has familiar scents of home.
3. Pack smart
Have you got everything? At a minimum, you'll need food, bowls, and medications. You may also want to bring favorite toys, clothes, toothbrush and toothpaste, and treats.
Bring documentation, too. It's a good idea to have your dog's vaccine history, vet information, and microchip information with you. Will you need it? Maybe not. But if you and your pet are separated for some reason (perish the thought!), it may come in handy.
4. Plan for exercise & potty time
Before setting out, give your dog some extra potty time and let them get rid of excess energy with a long walk or play session. Once you get on the road, plan to stop every 3-4 hours for potty breaks and fresh air. Many interstate rest stops have pet areas with doggie bags and plenty of room for us to stretch our four legs.
5. Address anxiety & carsickness
Some dogs are very anxious when travelling by car, poor things. They can't settle down, they whimper, and they feel very stressed out. What to do? If you don't have time to train your dog to love the car, you need some quick fixes. I've heard that some dogs love the ThunderShirt, a swaddling shirt for dogs that provides a calming sensation of pressure.
Other dogs get physically ill. If you see your dog drooling excessively, a sign of carsickness, pull over if you can. If you know your dog tends to be carsick, then skip the meal before setting out, and bring along paper towels and cleaners for any accidents that occur. Also, helping your dog see out the window REALLY helps. Trust me. If they're too small to see, consider a raised dog car seat like the one I use, the Snoozer Lookout Dog Car Seat.
Happy travels!
I hope these travel tips help as you plan your next road trip. There's nothing like human and dog hitting the open road together!
Ciao ciao for now!
Read More Posts By Moxie
Moxie the Maltese has gorgeous, silky white tresses—and more than a little attitude! This classy lady likes to travel the world with her owner, Penelope.