Tips for Car Travel with Your Large Dog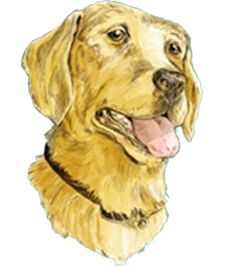 My friend Moxie the Maltese is little and sometimes I'm jealous of how easy it is for her to go everywhere with Penelope, her owner. They go everywhere together!
I'm a yellow lab so I'm a pretty big dog, though not one of the biggest. Still, you can't put me in a purse and cart me around. But big dogs like to travel and be with their owners too!
Here are some ways to make travel with your large dog easier.
Exercise, exercise again, and exercise some more!
Before a long car trip, make sure your dog has burnt off that extra energy with a nice long walk around the block or run around the backyard. This is a smart idea for smaller dogs, too, but with big dogs it's especially important. A big dog with excess energy or anxiety may find it more difficult to settle down, constantly standing up and turning or pacing in the back, blocking your view out of the rear window or compromising safety by trying to climb up into the front seat with you. (Not that I, uh, ever tried such a thing…!)
If your trip is long – say, over 3 or 4 hours – stop along the way for another walk. Many rest stops off the highway have designated pet areas where your pet can relieve themselves as well as get a bit more exercise before the next leg of the trip.
Make it comfy and safe, big-dog style!
Like I said, my friend Moxie is a Maltese and she's such a petite pup, she can comfortably and safely ride in her favorite Snoozer Lookout. I'm too big for those, unfortunately. Instead, I wear a harness that connects into the backseat seatbelt system to keep me safe and secure and allow me to settle down in the backseat. My owner loves when I'm comfy and her car is protected, so she spoils me with Snoozer's Heavy Duty Reversible Car Hammock. 

If you have a large SUV or truck, another option is to travel with your dog in their crate in the back with a refreshing temperature-regulated Outlast Crate Pad for support. This will help them feel secure and comfortable!
Call ahead
Many restaurants and hotels are happy to host your four-legged friends, which is great! But they may have restrictions on size or breed, which can sometimes be not-so-great. You need to do some research first, by checking out www.bringfido.com or www.gopetfriendly.com. You don't want to arrive somewhere for the night only to find that your 120-pound Great Pyrenees isn't as welcome as you are. (Don't forget that many pet-friendly hotels charge an additional fee, too.)
Other tips
Whether your dog is big or little, there are some general car travel tips (from my friend Moxie) that will make your trip safer and funner (that's a word, right?) which you can find right here.
Happy road tripping! – Kia
Read More Posts By Kia
Kia is a full-sized dog living with a full-sized family! She's full of energy and loves to romp with kids, so whenever Kia is around, you know you're in for an exciting time!