How to secure a dog in the car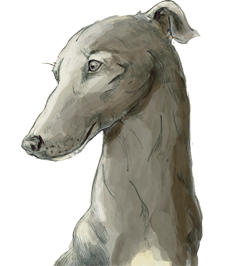 Keeping your dog secure when traveling in the car isn't just for your dog's safety, but the safety of you and your passengers, too. Plus, many dogs feel more happy and less anxious in the car when they feel safe and secure.
Fortunately, you have several options. Here are different ways to secure a dog in the car.

Travel in their crate
One simple option is to put your dog in their crate and place the crate in the car. Be sure to secure the crate with a seat belt so it doesn't fly off the seat if you have to break suddenly. The upside is that your dog is already familiar with their crate and you don't have to buy any additional equipment. The downside is that this won't work for every dog and every car. Small and medium sized crates typically fit in cars of all sizes, but crates for larger dogs may not fit at all or only in the cargo area of an SUV.
Attach with a harness to the seat belt
You can also skip the crate and clip your dog directly into the seat belt system with a harness. Many dog harnesses are made specifically for car travel and come with an extra strap to attach the harness to the seat belt. Or you can use a carabiner to attach the harness directly to a belt that's buckled in.
Get a dog car seat
Car seats aren't just for babies; did you know you can get a car seat for your dog, too? Dog car seats are perfect for smaller breeds and they have several advantages. They provide a comfortable and safe place for your dog to ride, protect your car from messes, odor, and damage, and can be removed for easy cleaning. Dogs absolutely love our Lookout Dog Car Seat by Snoozer. This raised dog car seat lets your pup see what's happening out window in comfort. Clip your dog into the eat and attach the dog car seat to the seat belt system for safety. Another option is the Console Car Seat by Snoozer, perfect for little dogs that like to sit up front and see the road ahead!
Install a back seat car cover
Back seat car covers for dogs are typically designed to stretch over the entire back seat area from backseat headrests to front seat headrests, creating a sling or hammock effect that prevents your dog from slipping off the back seat into the footwell area. This is great for bigger dogs that can't fit in a dog car seat but don't like the feeling of being unsecured in the back seat. Our Reversible Hammock Dog Car Seat Cover comes with slits in the cover to pull the seat belt buckles through so you can also secure your dog with a harness, plus it zips down the middle for added versatility.
Note about riding in the trunk
In many places it is actually legal to transport your pet in the trunk of the car, but don't do it. It's better for your dog if you can keep an eye on them in case they get into trouble and need to be let out of the car. There's no reason to risk it! Choose one of the options above and your dog can travel in safety and comfort.
Read More Posts By Beckley
Beckley was a racing greyhound until he retired at 2 1/2 years old and was adopted off the track. He's super fast when he wants to be, but he actually prefers to take it easy, napping on the most comfortable bed he can find!