Signs of Arthritis in Dogs (and What to Do About It)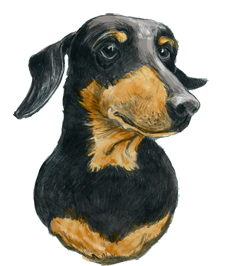 Arthritis is very common in humans, but did you know it's common in us dogs, too? Up to 1 in 5 dogs have arthritis, and just like with humans, it's more common with age.
Arthritis is a chronic disease that causes pain in the affected joints. In dogs, this is mainly in the hips and elbows. There are actually five kinds of arthritis in dogs, the two most common being degenerative joint disease and inflammatory joint disease.
If you have a dog approaching his senior years, it's a good idea to be familiar with the signs of arthritis so you can get prompt diagnosis and treatment, but be aware that younger dogs can have arthritis, too. Here are the signs to look for, and what to do when you suspect arthritis is the culprit.
Signs of Arthritis in Your Dog
A dog with arthritis may show signs of change in movement, change in behavior, and/or physical symptoms.

Changes in Movement:
Slowing down
Becoming less active
Sleeping more
Stiffness, especially when standing up after sleeping or resting
Changes in Behavior:
Yelping when the area in question is touched
Licking the area in question
Going to the bathroom indoors
Lethargy & depression
Uncharacteristic aggressive behavior
Physical Symptoms:
Swelling at the area
Heat at the area
Change in weight
Your dog may exhibit one of these signs or several. Keep in mind that us dogs have evolved to hide our pain from our pack mates, so your dog may be living with the pain of arthritis for some time before you're aware that anything's wrong.
What to do About It
Fortunately, you don't have to let your beloved companion live in pain; there are things you can do to help.
1. Go to Your Vet
Your vet will examine your dog and figure out what kind of arthritis it is and maybe even what caused it. Though we consider arthritis a natural side effect of aging, arthritis can have many causes, from infection to poor nutrition to physical trauma of the joint, and the etiology can affect the treatment plan. Treatment with medication (like NSAIDs or steroids) to relieve pain is common.
2. Make Your Home Comfortable


Start by getting a supportive, comfortable bed to relieve pressure on your dog's painful joints. My buddy Beckley the greyhound wrote all about orthopedic beds, why they're good for dogs with arthritis and other health conditions, and how to choose the right one for your dog. (He likes the Super Orthopedic Lounge Dog Bed, while my favorite is the Orthopedic Cozy Cave Dog Bed I can burrow into.)
Next, look at access in your home; it should be easy for your dog to get outside to go to the bathroom, get to their bed and food, and make themselves comfortable. Move obstacles out of the way and try to reduce the need for climbing stairs if possible. If they can no longer jump the way they used to, get a Scalloped Dog Ramp to make it easier to join you on the sofa or bed.
Finally, some dog owners report that their dogs exhibit more signs of pain when it's cold and damp, so keep your dog warm and dry as much as possible.
3. Make Good Lifestyle Changes
Just as with humans, dogs benefit from regular exercise and a healthy diet. Being even a couple pounds overweight can make the pain from arthritis worse, so if your pooch could lose a few pounds, now's the time to make that happen. Plus, maintaining your daily walk routine is good for mental health as well as physical health.
Arthritis is no fun, but you can help alleviate the pain your dog is feeling. Until next time, take care.
– Maple
Read More Posts By Maple
Maple's a little older, but with age comes wisdom, and Maple is always ready with great life advice! He's seen a lot in his lifetime, and he's happy to be spending his golden years sharing that experience with others.