Why do dogs sleep so much?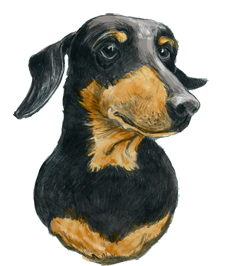 Do dogs sleep all day? It can sure feel like it. With most dogs taking multiple naps throughout the day, getting up to eat or go for a walk, it sometimes seems like they're barely awake! But why do dogs sleep so much, and how much sleep is normal?
Why do dogs sleep so much?
If you're wondering why dogs sleep so much, remember that it's all relative. Dogs sleep a lot compared to humans, but they're not that unusual for the animal world. Like many other omnivores and carnivores (there's ongoing debate as to which category dogs fit in), they sleep well over the human standard of 8 hours a night. Lions sleep around 18-20 per day, cats 12-16 hours, and even squirrels spend about 15 hours a day asleep. On average, dogs sleep 12-14 hours a day, which seems like "so much" to us, but it's what they need for good health.
A number of factors affect how many hours your dog sleeps, including breed, age, health, and lifestyle and life changes.
Bigger breeds, like Newfoundlands, Great Danes, and mastiffs, generally sleep more than smaller breeds, since bigger dogs need more energy to keep going and more rest to recover from the day's activities. But this can vary from breed to breed; for example, the Pekingese, though it's a small breed, sleeps more than most small dogs.
As for age, puppies – just like babies – need substantially more sleep while they're growing so fast. And senior dogs need more rest than adult dogs, too.
Health matters, too. Dogs that are chronically sick, and even overweight dogs, tend to sleep more than healthy dogs. Mental health is also important; depression and anxiety can make dogs sleep more than normal.
Finally, lifestyle and life changes can have a profound effect on how long your dog sleeps. Working dogs, like police dogs, sheep dogs, and sled dogs, sleep fewer hours simply because they're more active during the day and don't have the luxury of snoozing whenever they want. Life changes like moving homes, losing a human or animal companion, or other big transitions can temporarily lead to periods of sleeping longer during the day.
Are dogs supposed to sleep a lot?
Dogs should sleep the number of hours that's an appropriate reflection of their breed, age, health, and lifestyle.
So, how many hours of sleep do dog needs? As a general guideline, the average sized, healthy adult dogs sleeps an average of 12-14 hours a day. Bigger dogs will sleep more, around 16, and smaller dogs will be on the lower end of the average range.
How many hours puppies should sleep depend less on the puppy's breed and more on their age. During their early months, puppies sleep 18-20 hours a day, spread across several sleep periods. Likewise, older dogs will sleep around 16-18 hours a day.
If you're concerned that your dog is sleeping too much – or too little – bring it up to your vet, especially if your dog's sleeping habits have changed recently for no discernable reason.
Why a good dog bed is important for a dog's sleep quality
Maybe the right question isn't "Why do dogs sleep so much?" but "How can I improve my dog's quality of sleep?"
Humans spend hundreds – often thousands – of dollars on a mattress because we know how important a good bed is for good quality sleep. The same is true for dogs! Mattresses that are unsupportive, lumpy, and too hard or too soft make it hard to fall asleep and make it more likely to wake up before sleep is through, interrupting sleep.
When it comes to dog beds, there's no one-size-fits-all solution. The best bed for your dog will depend on their size, health, and preferences.
Some dogs – particularly breeds that were bred for burrowing, like dachshunds and beagles – love to be fully surrounded when they sleep. Snoozer's Cozy Cave dog beds have a hooded design so your dog can crawl in and snuggle up, fully ensconced in the soft Sherpa interior so they can feel safe and secure as they sleep. In addition to being a natural fit for burrowing breeds, Cozy Caves are also a great fit for dogs that tend to be chilly and dogs with anxiety who like the feeling of being wrapped up. If you often find your dog fully sleeping under the covers with you, then this is the dog bed for them!
Dogs who need extra support will benefit from an orthopedic dog bed, which is a dog bed made with sturdy foam or memory foam to help take pressure off the joints and reduce pain. Since pain can be extremely disruptive to sleep, an orthopedic mattress can do wonders for good sleep. The firmness of the foam also makes it easier for dogs to get in and out of bed, which is something to keep in mind for dogs with reduced mobility. Snoozer's orthopedic dog beds come in a variety of sizes and shapes (including Cozy Cave!) to suit dogs of all sizes and sleeping preferences. These are ideal for dogs with joint problems like arthritis, skinny dogs with little fat like greyhounds and whippets, dogs who have recently had surgery, and older dogs who are slowing down.
Some dogs love a bed with bolsters, so they can curl up in the corners and get cozy or prop their head up on the side. If this is your dog, check out Snoozer's big selection of dog sofas and couches. These are great if your dog loves a luxuriously sink-in soft bed. Snoozer's comfortable dog sofas are also available in the Forgiveness line, which features a fully washable mattress (not just cover, but mattress!), ideal for dogs who tend to have accidents, whether due to incomplete potty training, age-related incontinence, or other health issues.
Help your dog get the quality restorative sleep they need
Even though it may feel like your dog sleeps all day long, that's not really true. As long as your dog is sleeping within the general range of hours for their age, health, and breed, then there's no need to worry or wonder why your dog sleeps so much. Keep an eye out for changes in your dog's sleep patterns so you can mention any unusual changes to your vet, and help your dog get the best sleep possible by getting a high-quality dog bed and by building a relaxing and secure environment that's right for them.
Read More Posts By Maple
Maple's a little older, but with age comes wisdom, and Maple is always ready with great life advice! He's seen a lot in his lifetime, and he's happy to be spending his golden years sharing that experience with others.